In today's digital age, search engine optimization has become a critical component for businesses looking to grow and thrive. One example of the transformative power of SEO can be seen in the remarkable success story of a dietary supplements supplier, which experienced a phenomenal 104% boost in sales following our SEO strategy.
| | |
| --- | --- |
| Client | Supplements Manufacturer & Supplier |
| Industry | Dietary Supplements |
| ScaledOn Department/s Involved | SEO |
| Key Tactics | Technical fixes, content and structure improvement |
| Key Results | 104% increase in sales, 188% organic traffic growth |
By implementing advanced techniques and strategies, this company was able to drastically improve their online visibility, attract more traffic to their website, and ultimately drive more sales. In this article, we will delve deeper into the SEO strategies and tactics used by this company to achieve such impressive results, and how you can apply these principles to your own business to achieve similar success.
Client Summary
New US Supplements Manufacturer & Supplier
Selling protein and dietary supplements
High-quality products with great reviews
Supplements Market Landscape
Accordingly to a report published by IBISWorld, the Vitamin & Supplement market in the US in 2023 increased to $39.8bn. In terms of market size, the Vitamin & Supplement Manufacturing industry ranks 50th among all manufacturing industries in the US, and it is the 282nd largest industry in the country.
However, with this growth has come increased competition, making the supplements niche a highly competitive market.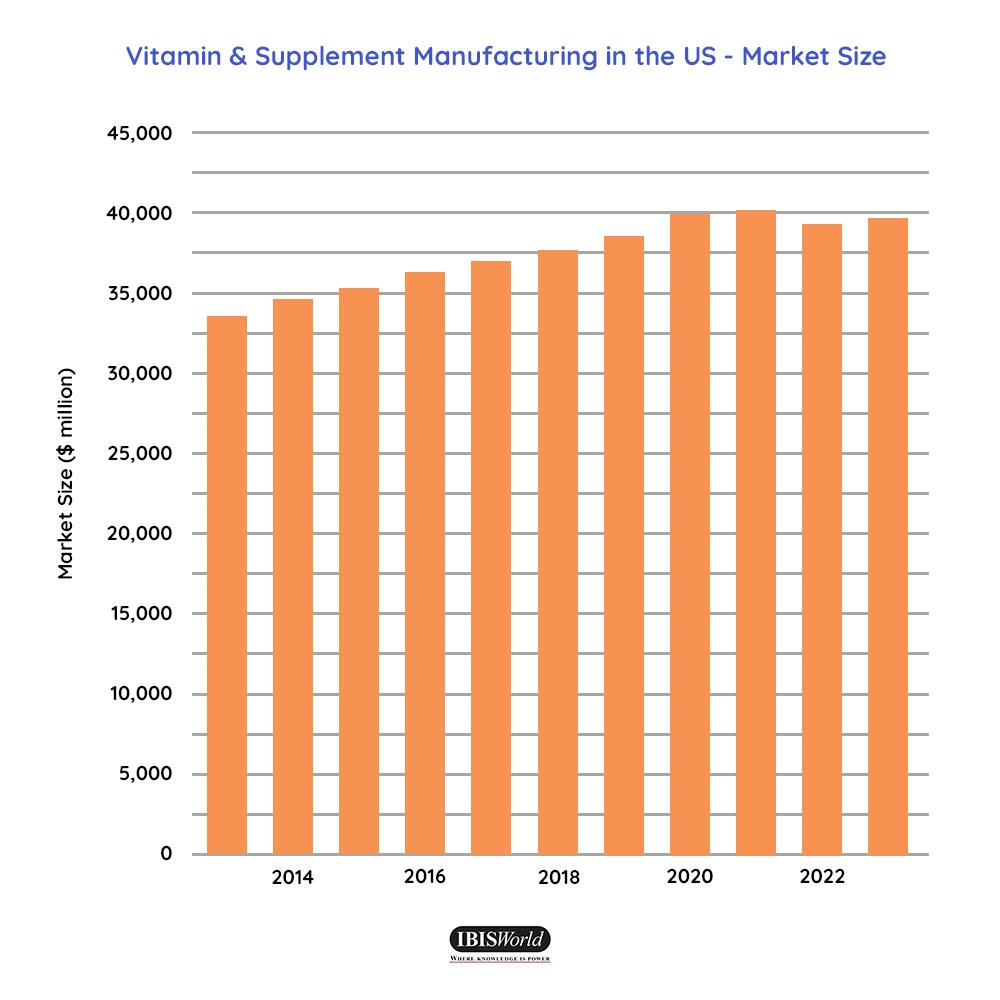 There is a multitude of brands and products vying for the attention and loyalty of consumers, ranging from established industry leaders to up-and-coming startups. To succeed in this market, companies must differentiate themselves from their competitors by offering unique products, superior quality, and effective marketing strategies.
Furthermore, with the rise of e-commerce and online shopping, companies must also have a strong online presence and employ effective digital marketing techniques to stand out in the crowded supplements market.
The Marketing Challenges
Digital marketing has become increasingly important in the dietary supplements niche due to the growing number of consumers who are turning to online channels to research and purchase supplements. However, there are several challenges that companies in this industry face when it comes to SEO and other types of digital marketing.
Legal restrictions: The dietary supplement industry is heavily regulated, and companies must adhere to strict guidelines when it comes to making claims about their products. This can make it challenging to create effective digital marketing campaigns that communicate the benefits of their products without running afoul of regulations.
Intense competition: The dietary supplement market is crowded, with a large number of companies competing for consumers' attention. This makes it challenging to stand out from the crowd and attract new customers through digital marketing channels.
Limited marketing budgets: Many companies in the dietary supplement industry are small and have limited marketing budgets. This can make it difficult to invest in the kind of digital marketing campaigns that are necessary to build brand awareness and attract new customers.
Complexity of the science: The science behind dietary supplements can be complex and difficult for consumers to understand. This can make it challenging to communicate the benefits of products in a way that is clear and compelling, especially in the limited space of digital marketing channels.
Consumer skepticism: Many consumers are skeptical of the claims made by dietary supplement companies. This can make it challenging to build trust and credibility with potential customers through digital marketing channels.
ScaledOn SEO Strategy
For a digital marketing agency to develop an effective SEO strategy for a website, it is crucial to analyze and understand the business, the website itself, and the objectives of the company. The primary objective of our client was to get more commercial traffic that drives sales. Therefore, we've recommended optimizing the website's hierarchy by improving the category pages and the clustering.
This goal obviously means that we need to make keyword research, analyze the keywords we want to focus on the category pages and find the best options considering the search volume and keyword difficulty.
Besides, it's very important to create an efficient page structure with a great user experience in mind. That means the pages should have relevant content, including heading titles, paragraphs, images, CTA buttons, FAQs, and many other related sections that will help visitors understand what you offer and why should they buy from you instead of your competitors.
And the last critical aspect we've recommended to our client is the clustering.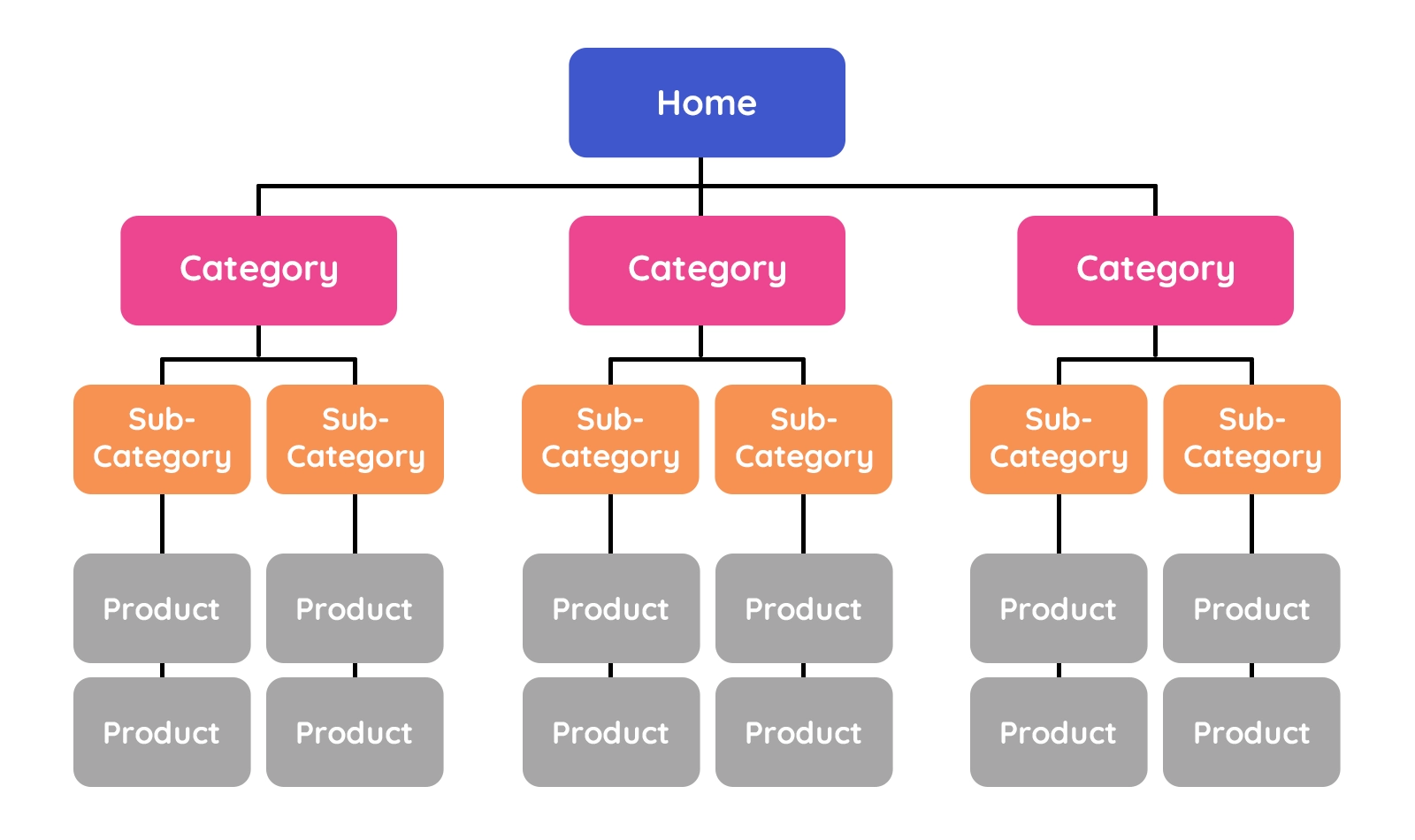 What is Clustering?
Clustering is the technique of organizing website content into related groups, or "clusters," based on specific topics or keywords. The purpose of clustering is to create a more organized and coherent structure for your website's content, making it easier for visitors and search engines to understand your pages.
When clustering, you group pages on your website that are related to a particular topic or keyword. By doing this, you create a clear hierarchy of content that can help improve the relevance and authority of your website, making it more likely to appear higher in search engine results pages (SERPs) for relevant queries.
Clustering can be accomplished through various methods, including organizing pages into categories and subcategories, using internal linking to connect related pages, related guides, and creating pillar pages that serve as a hub for related content.
The Results
After implementing a few recommendations from our SEO strategy, including creating new pages, improving the page UX, and linking the pages for a better clustering, the results started to come.
We'll present below the organic traffic and organic sales KPIs evolution in the last year compared to the previous period. However, the client didn't implemented all our recommendations, yet. We expect to see a continually increase in traffic and sales after implementing everything we've mentioned in our digital marketing strategy.
Organic Traffic Results
The organic traffic boosted up by 188.12% and the last period indicates an increasing trend. Organic sessions were higher for each month compared to the year before. The last few months have shown an even bigger difference in traffic compared to last year. 

Organic Revenue
A website's most critical aspect is undoubtedly its page experience. Google is using page experience as a ranking factor, and more significantly, visitors are more likely to engage and convert when they interact with a website of high quality. So improving this KPI is critical for any online business owner that wants to have the best results. Due to boosting up the organic traffic, the UX quality of the website, internal linking, and CTAs, revenue increased by 104.41% and the number of transactions increased by 71.97%. All the months have higher sales compared to the previous year and the increasing trend is accelerating.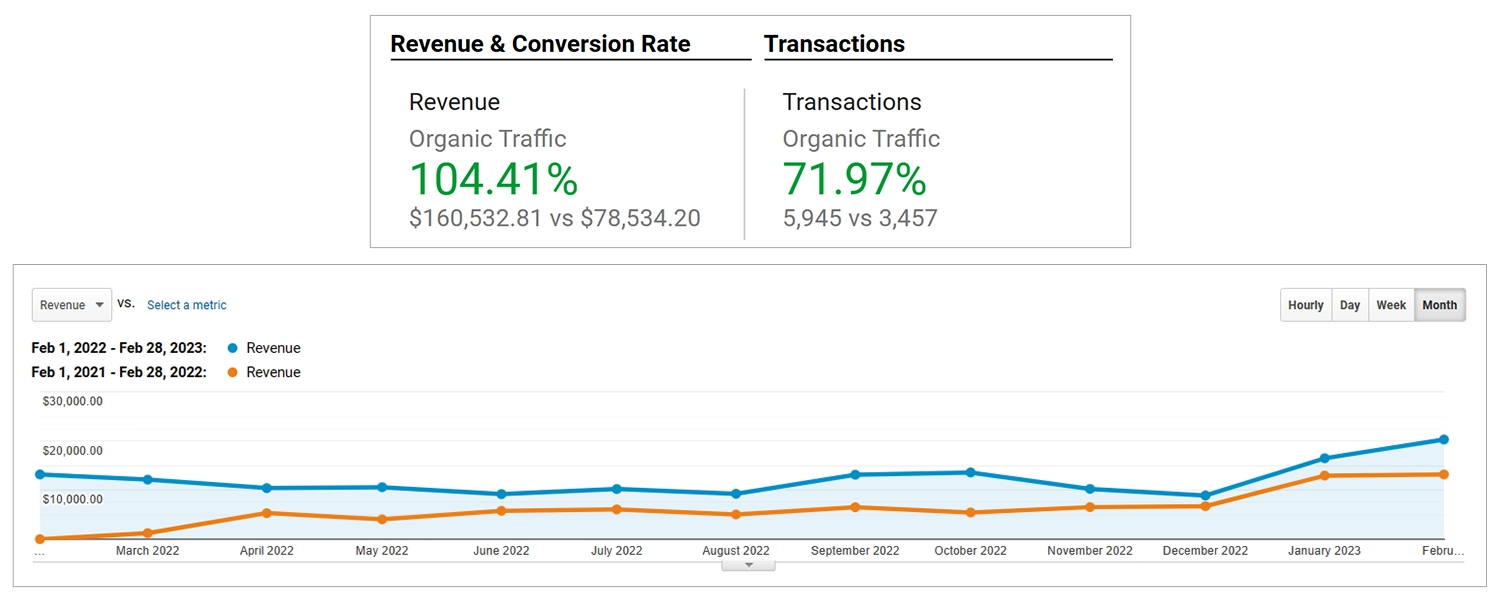 Conclusion
Incorporating search engine optimization (SEO) into your marketing strategy is crucial in today's digital landscape. Studies have revealed that approximately 60% of the global traffic comes from search engines, and users tend to trust organic search results 8 times more than paid ones.
Did you know that 99.37% of Google's searchers only click on the top 10 search results? In fact, 1st position grabs 34% of the entire organic traffic.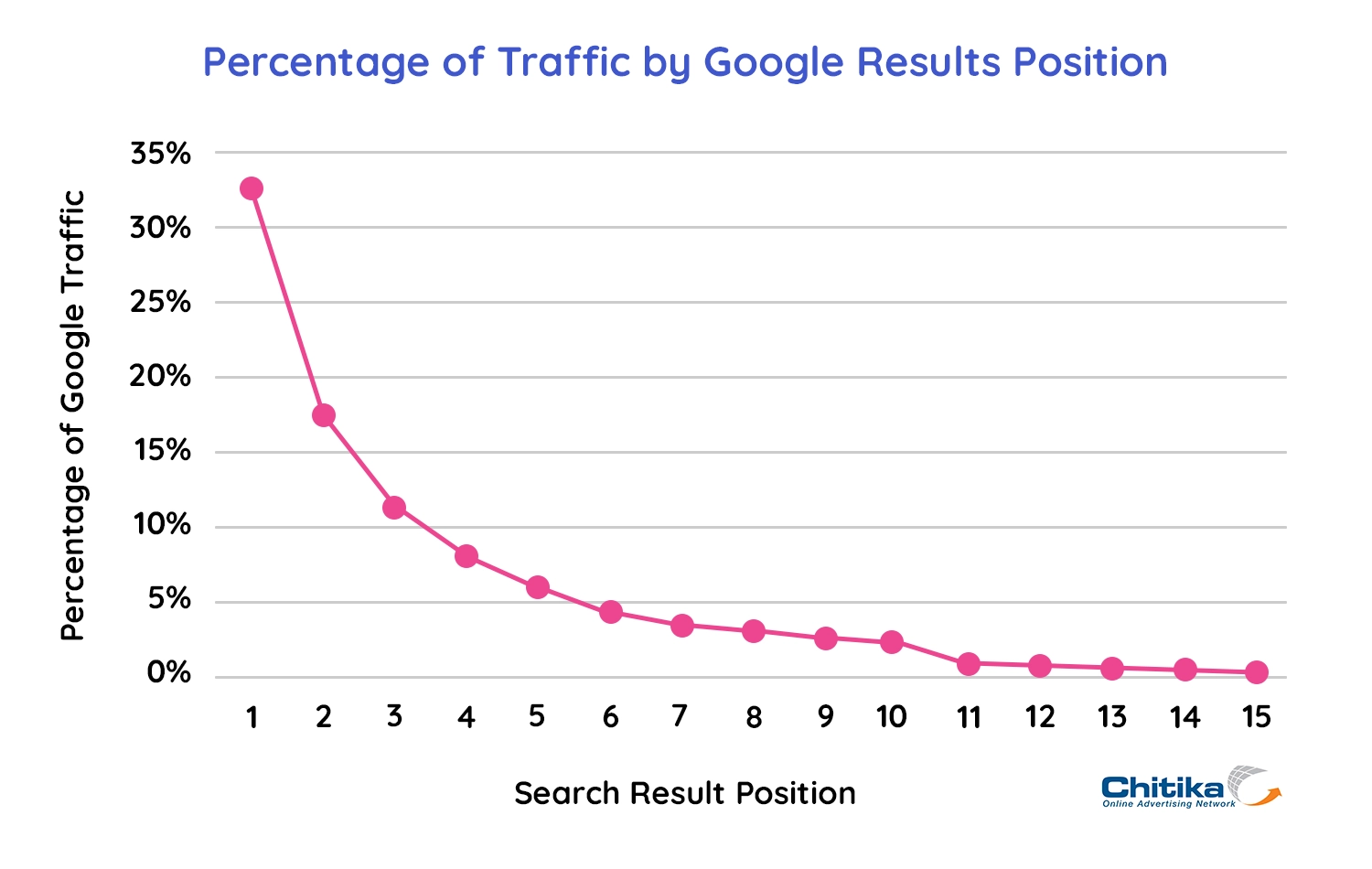 Given that people seek quality websites and relevant content during their online searches, investing in SEO alongside content marketing can be a wise decision. By doing so, you can deliver precisely what your target audience is searching for, which can enhance your brand's credibility and attract more potential customers.
Therefore, if you want to take your business to the next level, don't hesitate to contact ScaledOn today. Our SEO services can help you boost your online presence and ultimately drive more sales.
I want to boost sales through SEO