"1 of 3 Marketers Shifting Ad Spend from Facebook and Google to Amazon"
Amazon Sponsored Products ('PPC') has become an important marketing channel that all product brands should look at. Amazon's advertising revenue increased to $10B in 2018, closing in on Facebook and Google, as the third-largest advertising platform in the U.S.
Across the board, Marketers are in love with Amazon. Facebook and Google have been slipping in their perceived effectiveness.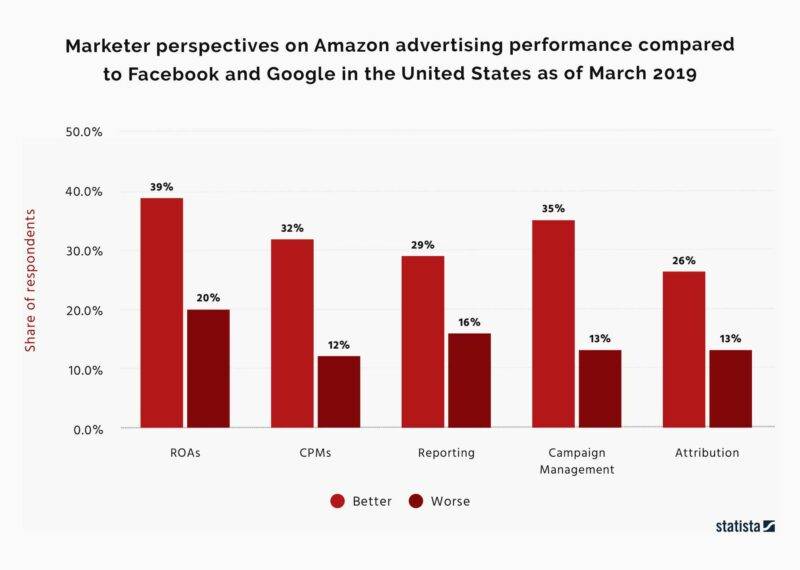 Source: Nanigans
According to the survey results, almost 40% of respondents were of the opinion that Amazon's advertising performance had better return on Ad Spend than Facebook and Google, and 35% thought that campaign management with Amazon was also better.
Why is this important to you?
As more and more advertisers increase their investment in Amazon PPC, the CPC will grow.
When your advertising campaigns CPC's increases, so does your ACoS (Advertising Cost of Sale – one of the most important metrics of Amazon Ad Campaigns). And it is becoming more difficult to manage and optimize campaigns in order to keep the overall ACoS under the limits so that your Amazon business still continues to be profitable.
How to increase your Amazon Ad Spend efficiency?
Most advertisers rely on ACoS, so it is important to identify those opportunities to reduce your Ad losses. When managing your Amazon PPC campaigns you want to pay attention to the following areas:
1. Effective Keyword Selection
Keyword selection is at the core of any Amazon listing and Ad Campaign, and choosing the right keywords are the most important factor for a successful campaign.
Start by using Amazon Auto Campaigns to identify the most relevant and converting keywords for your product(s).
In Auto Campaigns, Amazon is simply testing the Ad/your product with many different keywords that may be relevant or not. If your product/ad is shown for a certain keyword, clicked on, then purchased – Amazon interprets this as a relevant keyword and pushes more Ads and budget to it. On the other hand, if an Ad is never clicked on for a certain keyword, Amazon will stop showing Ads for this keyword in the Auto Campaign.
We recommend running the Auto Campaign for a period of two weeks for accurate analysis of search terms. Any time period shorter than 14 days typically doesn't allow impressions, traffic, and sales to capture two weekends and be statistically significant.
The next step would be to add the keywords with highest conversion rate and that are most relevant to your product into a Manual Campaign so that you can manage the bids for each individual keyword and redirect your Ad budget only for highly relevant and profitable keywords.
2. Making Use of Negative Keywords
Discovering relevant and profitable keywords for your Amazon PPC campaigns is very important. On the flip side, identifying irrelevant keywords (called negative keywords) is an equally important task to avoid wasting your Ad Spend.
Negative keywords are a method for you as an Amazon seller to refine your target audience and exclude unwanted and irrelevant product search terms from your PPC campaigns.
3. Start With Lower Initial Bids
The default bid you set for Ad groups and keywords must be proportional to how much you are planning to spend. These bids are very different depending on the category you are advertising in and on the competitiveness of that category. We highly recommend starting lower than Amazon is suggesting and adjust the keywords and Ad groups bids overtime to make sure they are profitable for your business.
4. Learn From Auto Campaigns, and Apply to Manual Campaigns
Amazon Auto PPC Campaigns are a powerful tool, but the control on them is very limited, as you can set bids at the Ad group level and you can't set bids on individual keywords.
Instead, we highly recommend to use the Auto Campaigns as continuous learnings and reapply them into Manual Campaigns, as you play with the bids and budget. The Auto Campaigns are a great source of intel for new products you want to launch and to help understand what search terms trigger sales, then you can reapply both in the Amazon listings optimizations and your Manual PPC Campaigns.
5. Having An ACoS Goal Based On Your Product Lifecycle
For each campaign, you should have a clear ACoS goal in mind. This goal should align with the max Ad cost per product you are willing to accept for a given campaign in order to make it profitable. But it will vary, depending on the lifecycle of your product.
If you're launching a new product, you may want to accept a higher ACoS and potentially lose money, as your initial goal will be to drive awareness and traffic to your products and understand what keywords will convert the best.
As time goes on you may want to increase your profits for each Ad-driven sale. In this case, you will have a more focused ACoS goal. For example, if your margin before Ad Spend is 30%, you'd want your ACoS target to be 15% or less. This way, you know you'll make profits on every single Ad-driven sale.
6. Continuously Optimize Your Campaigns
Whether you have a seasonal product or and evergreen or an occasion-based product, it is important to constantly review the search terms, advertised product, placements report and evaluate what is working for your campaigns. Monitor the traffic and users interest trend over time, especially during hot seasonality and Promo events (Prime Day, Black Friday Cyber ) and then allocate your Ad Spend budget based on these trends. This will allow you to effectively make use of the momentum and assist your natural sales with appropriate Ad Spend.
Amazon's growth will continue as they focus on 1-day delivery and expanding its Prime member base. Today we see many clients who are underspending in this channel vs the growing opportunity. Take a look at your marketing mix and at the very least do some testing so you can benchmark your cost of acquisition between Google, Facebook, and Amazon.
If you need some help, reach out and we would be happy to help…