Digital Ad Fraud continues to grow rapidly. Depending on which forecast you read it will be a $50-$150 Billion problem by 2025 but we see it from day to day as an E-commerce Agency hovering between 20-22% of the digital media spend when we do an audit.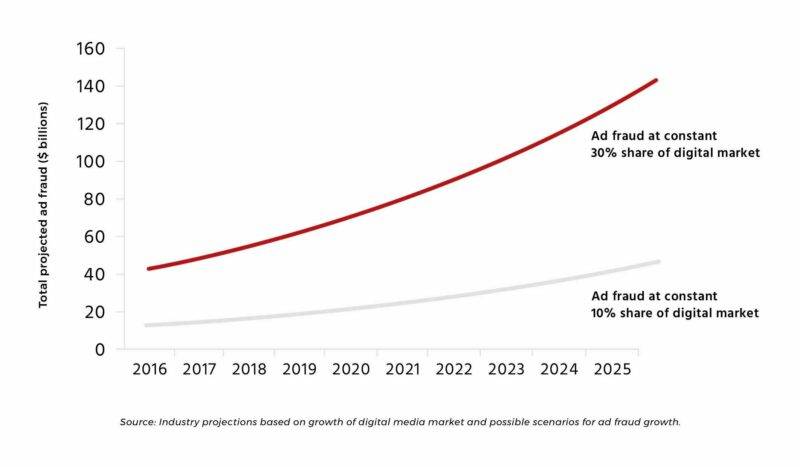 Types of Digital Ad Fraud:
Pop Ups/Pop Unders that you never see.
Multiple ads that are stacked together when they load.
Ads that are too small for a user to see (1X1 pixel).
You think you are buying ads on a high authority branded site but your ads are really served on blogs, fake domains, or other low value sites.
The ADS.TXT initiative by the IAB is working to solve this problem by creating better accounting of who is selling what ads where.
Hijacking
Using malware on your computer or router to replace the ad data or clicks from the lovely car ad you saw to the hackers fake ad account.
Bots
Watch this video of a click farm in China to get a sense of scale of the fraud. In China ⅓ of traffic is reportedly bots.
Click Injections are mostly done for mobile ad installs where the fraudster takes credit for you installing a new app as their own.
Click Spam where usually a background app on your mobile phone (think that memory cleaner app that was hogging all your battery) is doing fake clicks.
Here are the numbers from one recent team of 8 ad fraudsters that the FBI indicted: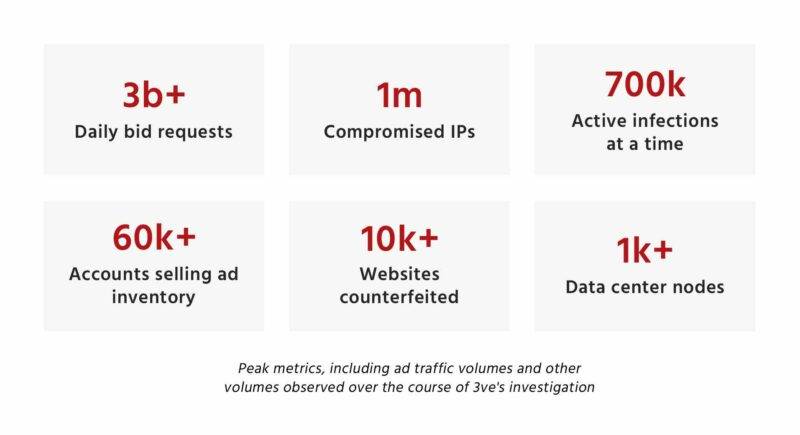 What can you do about Ad Fraud?
Ad Fraud is here to stay and is impacting your business right now. Start by educating your team that you need to take proactive measures to get your 10%-20% back. Google and Facebook don't care about this problem nearly enough so we need to own the fight.
Track it
Measure conversions by platform/partner and not just mid funnel or top of funnel metrics from Facebook/Instagram/Google/YouTube/Programmatic.
Run your invalid click report in Google Ad Words monthly or DSP or ask to see it from your agency partner.
Monitor your ad campaigns, web sites, and accounts for low quality traffic ( if you dont sell in these countries Russia, China, India, etc), IP's or locations that have a lot of clicks/visits but low time on your site and a high bounce rate using Google Analytics UTM codes for your campaigns.
Make your team track a new KPI of Invalid Traffic % or IVT % so you can monitor over time.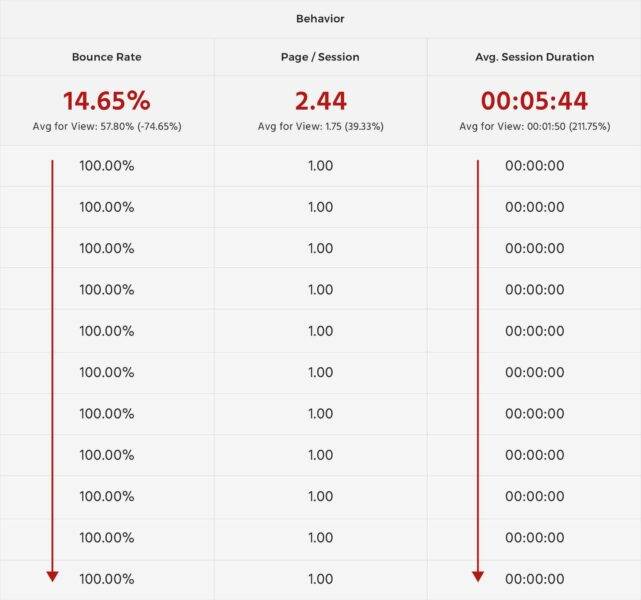 Block Them
We use and recommend Clickcease to autoblock bad actors in your Google AdWords account.
Build black lists of low quality sites and IP's that you block for each campaign.
Use Ads.TXT by the IAB.
Block IP's from countries and geographies that you don't sell to (China, India, Russia) are good places to start.
Block IP's from VPN's (virtual private networks).
Own The Problem
Have a good internal checklist to review monthly/quarterly depending on the volume of your ad spend and calculate your true costs.
Run more retargeting campaigns from your own first party data.
Ask for refunds when you find fraud or bad quality clicks.
Test..Test…Test and shift budget to channels with better ROI.
Resources: