Objective
Increase Ecommerce Sales for Gourmet Chocolate company.
Insights
Americans are sweet on chocolate. So much so that U.S. chocolate confectionery sales grew 22% between 2017 and 2022. Taking this trend into account our Client decided to launch his chocolate shop online serving the baking chocolate & confectionery segment. By implementing a Shopify site and Amazon Storefront, the client added $101,801 in sales in 8 months.
US Revenue in the Chocolate Confectionery segment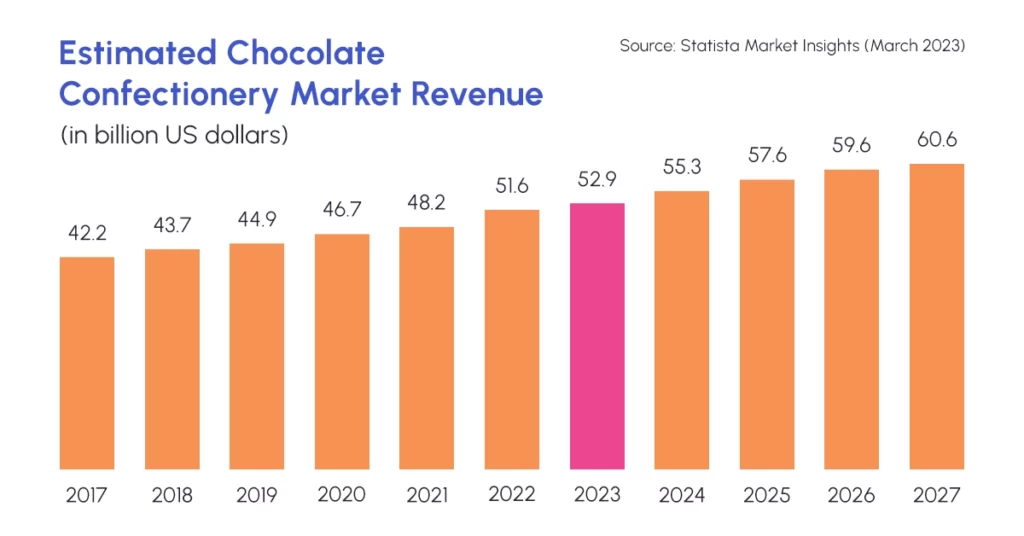 How we grew online sales
Creating a Beautiful Shopify eCommerce website
Running Google Ads campaigns (Brand & Non-Brand Search, Shopping, Remarketing & Display Campaigns)
Facebook Purchase intent Campaigns
Email follow-up and reorder campaigns
Amazon Storefront and Amazon Advertising campaigns
Drafted top-selling products in the Gourmet Chocolate field
Reviewed the margins identifying the most profitable products to sell
Identified top search terms on both Google and Amazon and build the website
Made delicious Photography for product listings
Ran Advertising campaigns on all the platforms with a focus on ROI.
A/B tested on product titles, descriptions, images, and prices, to drive conversion.
Results
A 328% increase in eCommerce Sales for 8 months since launch.
‍