Our eCommerce client produces and sells specialty dog and cat food, treats, and supplements. They are industry leaders in bland diet products for pets with stomach sensitivities and supplements to address pet health concerns like low appetite, mobility issues, coat and skin issues, and more.
Client's Sales Objective
Our client's main goal was to improve sales through their Amazon storefront and Amazon advertising efforts. The secondary goal was to get more exposure to the client brand. However, since we began working with this client in March of 2020, the COVID-19 pandemic presented unique challenges.

To reach our client's objective, we created a robust organic and PPC strategy to drive brand awareness and grow sales on Amazon.
ScaledOn's Sales Solution
Before we created our Amazon e-commerce sales strategy, we sat down with our clients to see what set their business apart from others in the pet industry. Meanwhile, our team got to work auditing the client's existing Amazon storefront to find new opportunities for growth.
The pet industry is huge and highly competitive, so creating a notable brand presence was a significant part of our strategy. We saw that our client's Amazon storefront offered opportunities to inform customers about common pet health issues and showcase their products as effective solutions.
We also discovered that many of our client's products weren't listed on Amazon. This limited opportunities for sales and to better serve a wider customer base.
We redesigned our client's storefront and created pages for pet issues, new products, deals, and holiday promotions. Then, we added all our client's products on Amazon, optimized the listings with new copy, and enhanced images to create A+ rated pages.
We continuously ran A/B tests to discover what language, imagery, bullet points, and search terms worked best for our client's audience. As we discovered what worked best for our clients, we optimized their product listings to improve organic search performance.
Once we updated the storefront, we drove traffic to our client's store through Amazon Attribution advertising and paid advertising campaigns. We designed new campaigns for our client's products and consistently tested our ads to find the most effective messaging to drive conversions. This data helped us create powerful promotional ads for holidays and special occasions, like Prime Day.
After COVID-19, the client focus switched to even more brand awareness across the Amazon platform. To achieve this, we launched Amazon DSP ( Amazon Demand-side platform that enables advertisers to programmatically buy display, video, and audio ads on and off Amazon) campaigns for the client.
Finally, we generated a number of product reviews to strengthen product listing pages and build customer trust.
"I started working with ScaledOn in March 2020, their ecommerce and retail knowledge has been a valuable asset in growing my business. My 2020 Amazon sales grew by over 400% YoY. I'm looking forward to the continued growth and opportunities on the horizon."
Results
Our client vastly exceeded their goal and saw a 400% year-over-year increase in product sales in 2020. In 2021, the client saw another tremendous year with a 150% increase in sales with our Amazon storefront revamp. Overall, the client has seen a 500% increase in sales with the help of ScaledOn.
The sales strategy showed incremental growth within the first month, increasing sales by 35% in March 2020. By December 2020, our client saw a 169% increase in sales compared to February 2020. Our client continues to see an upward trend in sales both organically and through advertising, including their first 6-figure sales month in August 2021.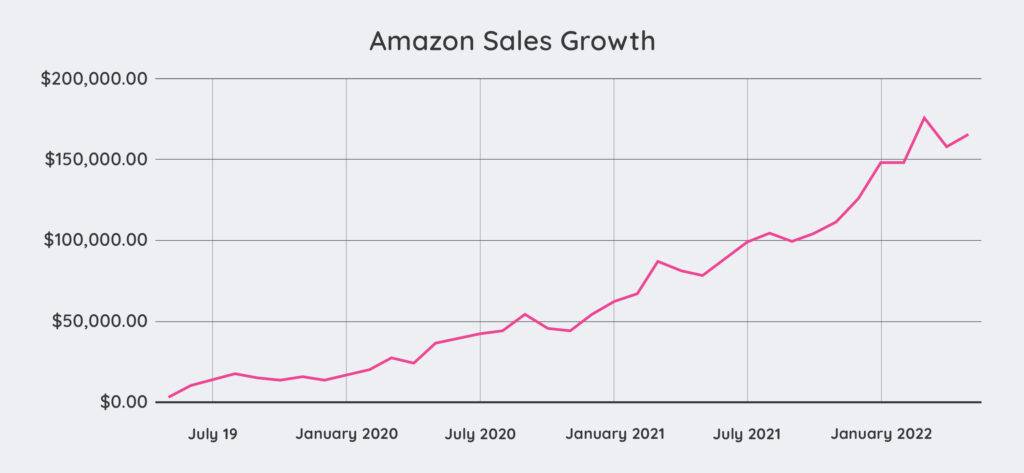 As result, the sales attributed to ScaledOn's advertising increased by 283% from 2019 to 2020 and 167% in 2021. This shows us that our campaigns resonate with the target audience and continue to successfully drive new customers to our client's Amazon products.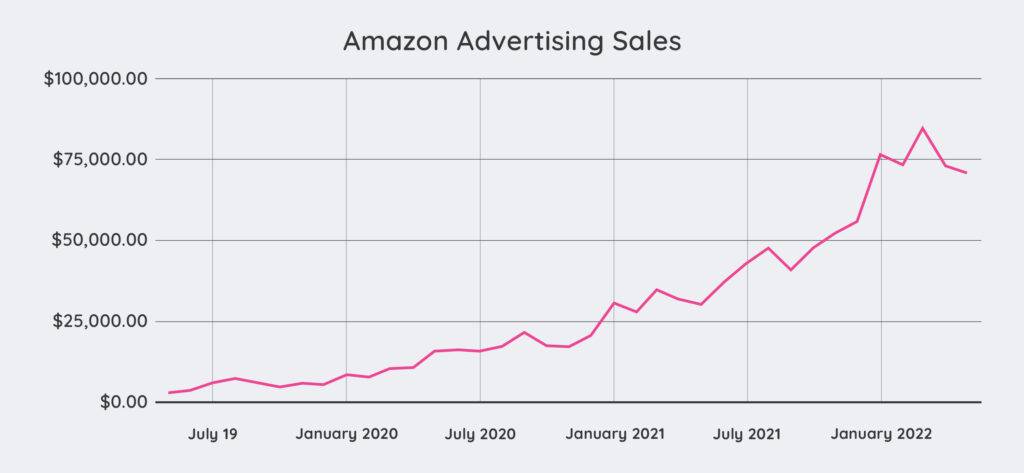 Is creating an Amazon storefront right for your business? Let's discuss how an Amazon e-commerce strategy can improve your sales today!
‍