About the Client
Our client is a telepsychiatry service based in New Jersey that has been in the mental health space for 20 years, partnering with hospitals and mental health facilities.
The company offers telepsychiatry services in the form of teleconsultations.
Their partnerships with employers, health systems, and community health providers have allowed the company to scale in terms of its clientele.
As of 2020, our client has 300+ mental health clinicians rendering services to the company's 300,000+ clients.
Our Client's Advertising Objectives
As a company providing telepsychiatry services, our client gets in touch with new clients through multiple channels, including Paid Media.

The company had already launched numerous ad campaigns that were not yielding the traffic and conversions they sought. For this reason, they endeavored to improve their paid traffic while at the same time slashing ad costs.
ScaledOn's Advertising Solutions and the Google Ads Healthcare Policy
First, we had to determine whether or not our client's ads were compliant with existing Google ads policies for healthcare. Upon examining the client's Google ads, we discovered some campaigns with policy issues.
According to the existing Google Ads policies for healthcare, health condition-related services aren't allowed in personalized advertising.
To comply with the Google Ads healthcare policy, we recommended reworking on ad copy to make focus on the benefits of the service, instead of conditions and diseases.
Our Client's Other Issues
Besides policy compliance, other problems contributed to our client's paid traffic drought. For one, we found several Google ad accounts with excessive keywords and multiple campaigns.
We also found that there was not a coherent structure; many ads lacked CTAs. The lack of Responsive Search Ads added to the already compounded optimization challenge.
These problems led to the launching of ad campaigns that, while visible, cost our client more than they brought in. It became increasingly clear that their ad campaign structure needed to be improved.
A Three-Pronged Solution
We began by merging all of the client's Google Ad accounts into one. This simplified account control, making ad management more efficient and consistent.
We also structured the ads based on their relevant categories and the relevant locations in which they were available.
From here, we optimized copy by researching and incorporating the closest and most relevant search terms for mental health services. We also used location-specific keywords and highlighted the advantages of the client's telepsychiatry services.
Our text copy optimization also included relevant and responsive call-to-actions. These CTAs led our client's site users to various parts of the website, keeping them engaged long enough to consider booking an appointment.
We also set up tracking for parts of the client's site with conversion actions to track the site's performance. By doing this, we could monitor user behavior on the site and determine areas for improvement.
The Results: 260% Increase in Paid Traffic within Three Months
Our client saw a 260% increase in its paid traffic. Equally remarkable is the fact that they enjoyed the surge in paid traffic while slashing ad costs by 53%. With the increase in traffic came a concurrent uptick in online bookings commensurate with the advertising budget.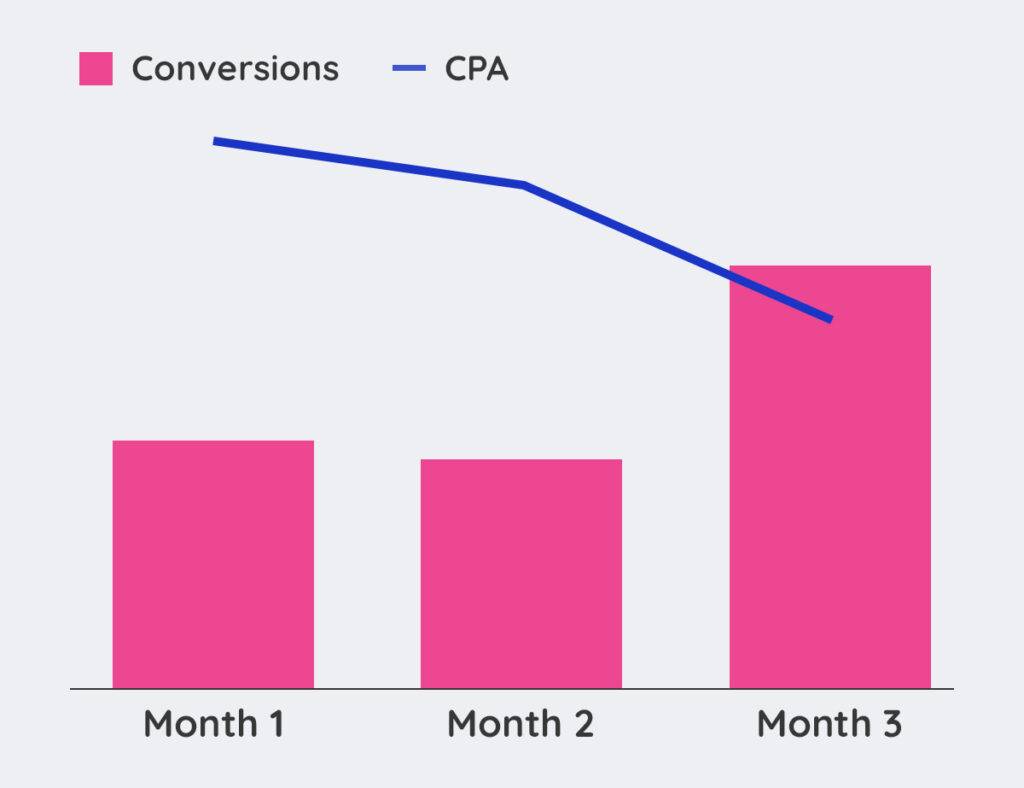 Our client's case study shows how even well-established companies can benefit from improving their ad campaigns. Most importantly, the case study also proves how compliance with Google Ads' healthcare policies can make a difference.
Are you a business in the healthcare space? Let's discuss how we can help you reach greater heights in your marketing campaigns.