As the summer ends and the holiday season slowly approaches, you may start to wonder what is the best way to prepare your website and SEO strategy. Special dates like Halloween, Thanksgiving, or even Christmas are only a few months away – although building snowmen may seem ages away right now!
As you probably already know, seeing results from an SEO campaign takes time, and it's always better to think ahead and get your site ready before your potential visitors search for Halloween promotions or Christmas gifts online.
But what can you do to prepare your site? As with anything else in SEO, it all starts with the right keywords.
Keyword Trends
The keywords you will want to go after will depend on the business you operate. If you own a Pet Shop, for example, you may want to target "Christmas gifts for dogs," while "Halloween costumes" should be a target if that is what you're selling.

Google Trends is an excellent tool for researching the seasonality of your keywords. Enter the keyword you're interested in, and you'll get a curve that shows the interest over time. In the image below, we looked up "Halloween costumes" for 2021.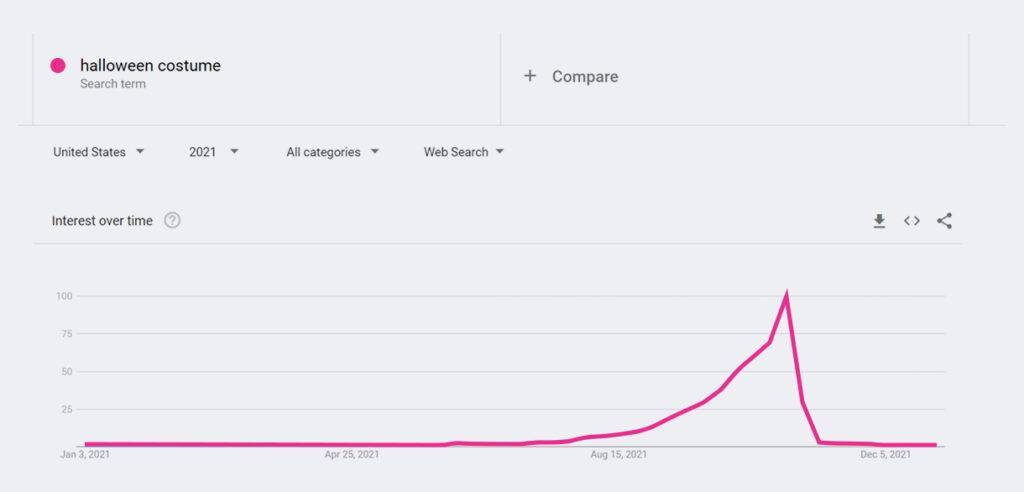 As you can see, people start searching for Halloween costume ideas in August, although interest peaks in October. Once Halloween is over, searches fall flat again.
So even if it may seem like the holidays are still far away, this is the right time to start getting your website ready. Stay with us as we explore a few SEO strategy ideas to take full advantage of the holiday season in 2022.
SEO Strategies To Implement This Holiday Season
Once you've got the list of keywords you want to target, there are many different ways to integrate them into your SEO and content strategy. Here are a few ideas for you to implement this holiday season:
1. Create Dedicated Landing Pages
Dedicated landing pages may be the first thing you want to devote time and resources to. With these pages, you will want to specifically address your customers' wishes and needs around a specific holiday.
So, if you're creating a landing page for your "Christmas gifts for dogs" keyword, you can present customers with a good selection of gift ideas, as well as some content that you think would be helpful for them. You could also, for example, divide gifts by price or by type.
You will want to optimize your SEO Title and meta description to help potential customers find you on Google. Adding images and videos is also a good idea, although you want to ensure they are not too large (to avoid slowing down page load speed!).
Pro tip: Avoid using the year in the URL as you may want to update and reuse the page in 2023. There is no need to delete or redirect the page once the holiday is over. However, you will decrease its visibility by removing internal links to the page – but more on that later!
2. Post-Holiday-Specific Blog Posts
As Halloween, Thanksgiving, or Christmas approach, you may want to start ramping up holiday-specific content creation. Informational content is always an excellent way to reach potential customers, even if you won't be selling them something right away.
As you prepare for Halloween, you could write about "Best Family Halloween Costume Ideas" or "Halloween Treats Your Dog, Will Love."
Apart from optimizing for a specific keyword, make sure you include information that will be relevant to your readers. With blog posts, it's not so much about conversions but more about building a relationship with your readers.
Blog posts could also be reused the following year, although you will always want to revisit and reoptimize the content to ensure it is still relevant.
3. Add Banners To Your Site
You can implement banners across your site as the holiday approaches. You can have these banners link directly from your homepage (or other important pages) to your holiday-specific landing page. The goal is to ensure your visitors can quickly find their way there.
The timing of these placements will depend on your experience with sales. For example, when do you usually start seeing a sharp increase in Christmas sales? Using the gifts for dogs idea we discussed above, November could be the right time to begin implementing banners across the site so your customers can find the perfect present for their four-legged best friends!
After Christmas, you can take these banners down and keep the landing page online for the following year.
Building a Sustainable SEO Holiday Strategy
One of the things we like about this strategy is how sustainable and scalable it is. The content you've invested in this year can be revamped and reutilized for next year so that nothing is lost – just transformed and improved.
Keep your typical customer in mind as you create landing pages or blogs. Make the content relevant and relatable to THEM, not only your specific business goals for Halloween or Christmas.
Ramp Up Your Holiday Sales This Season!
Using SEO to ramp up your sales is not only possible, but it's the most intelligent way to build a sustainable strategy. If you need help determining which keyword to target or what content to create, reach out to us.

ScaledOn is a full-service digital marketing agency that helps businesses grow their traffic, leads, and sales online by providing SEO, PPC, and Amazon solutions.