The 4th of July, also known as Independence Day, is observed annually in the United States to commemorate the country's independence from Great Britain. As you plan your paid media campaigns for July 4th, incorporating creative and eye-catching emojis can be a clever way to boost engagement and make your content stand out. Emojis have become an integral part of digital communication, allowing you to convey emotions and ideas in a fun and easily digestible format. Keep reading for our curated collection of 4th of July emojis, specifically selected to enhance your marketing campaigns!
Celebration Emojis
The 4th of July is all about celebration, and these emojis help convey the festive atmosphere and excitement that's synonymous with the holiday.
🎉 Party popper
🎈 Balloon
🎆 Fireworks
🎇 Sparkler
🎵 Music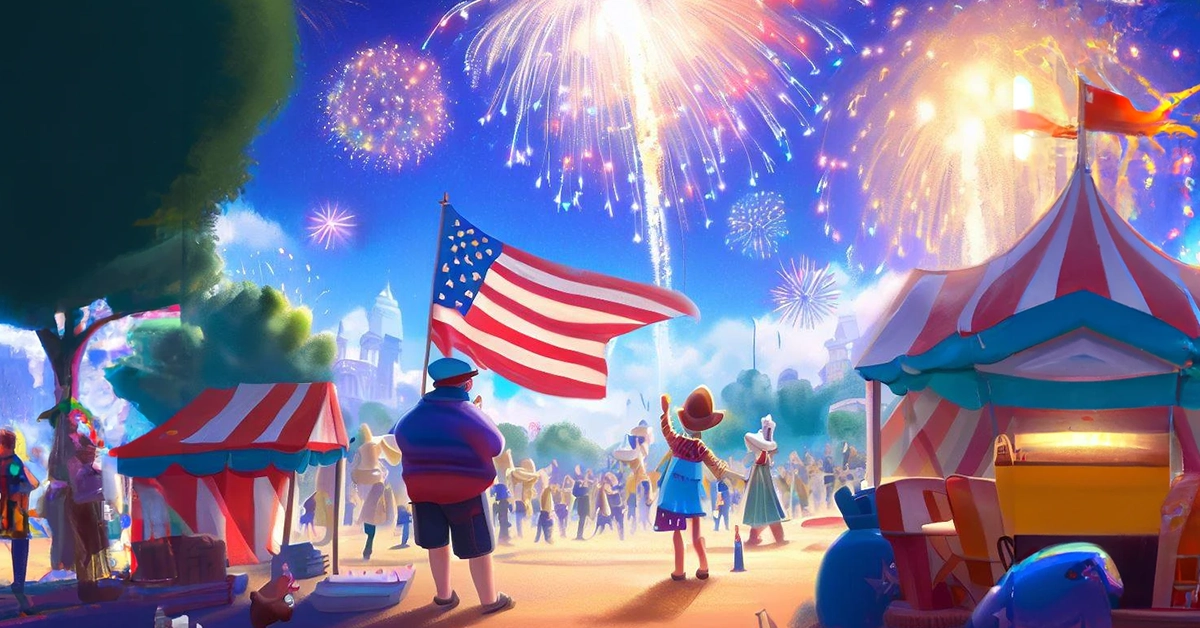 Patriotic Emojis
Express your patriotism with these emojis and capture the spirit of July 4th.
🦅 Eagle
🗽 Statue of Liberty
🔔 Bell
💙 Blue heart
❤️ Red heart
🤍 White heart
Activities Emojis
Use these emojis to reflect the different activities families and friends engage in during Independence Day like BBQs, picnics, beach trips and sports.
🌭 Hot dog
🥪 Sandwich
🏖️ Beach with umbrella
⚾ Baseball
Sale and Promo Emojis
Capture your customers' attention and entice them to explore your Independence Day sales and promotions with these emojis.
💸 Money with wings
💰 Money bag
📣 Megaphone
🛒 Shopping cart
🛍️ Shopping bags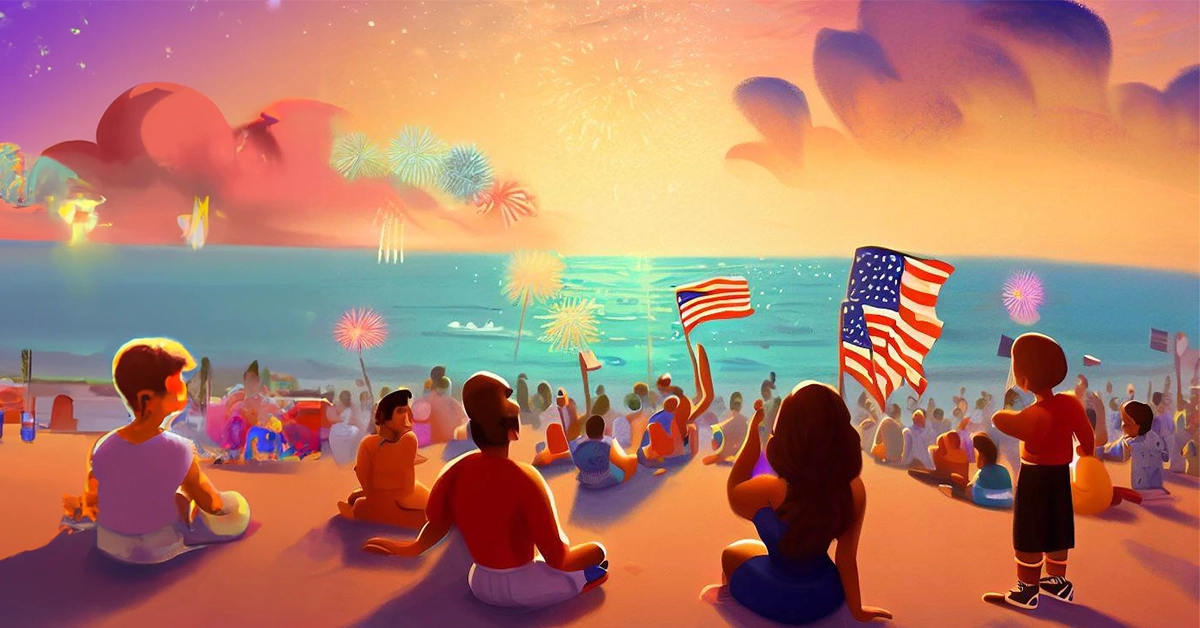 Ad Copy and Email Subject Lines
As always, emojis alone aren't going to get the job done – you'll need some captivating ad copies to really capture your audience's attention.
We've put together a selection of great July 4th ad copies to get you started:
🗽Get Ready for a Star-Spangled Celebration with these 4th of July Deals! 🎇
🌟 Freedom and Savings Await this Independence Day! 🎉💥
🦅 Liberty, Prosperity, and Savings for All! 🎆💥
For your email subject lines, you can try these ideas:
🎇 Celebrate Independence Day with Big Savings!
🌭🍔 Gear Up for the 4th of July BBQ Bash!
🎆🛍️ Hurry! Last Chance to Save on 4th of July Deals! Don't Miss Out!💥
Of course, these ideas should serve as inspiration for your own copies and its best to adapt these options to suit your specific products and brand image.
If you do need more content ideas for Independence Day, you can download this free 4th of July Emoji Content Pack from us. It's a great way to light the fuse of inspiration and jumpstart your campaigns.
Unlock 20 More Ad Copy Ideas With Our Exclusive Downloadable List 💡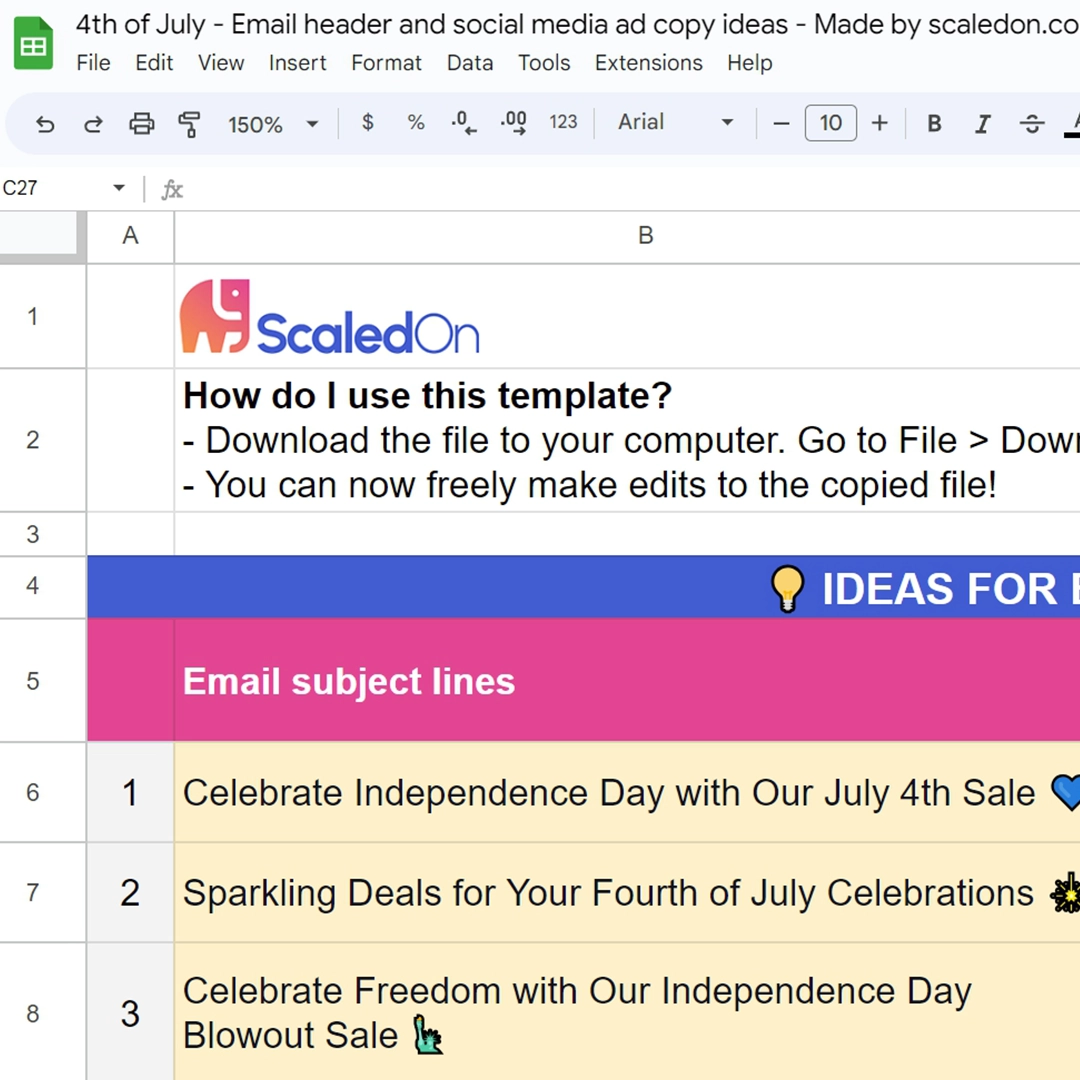 Ace Your Marketing Efforts with ScaledOn
Incorporating emojis and patriotic ad copies into your 4th of July marketing efforts is an excellent way to engage with your audience. Here at ScaledOn, we believe you can create effective campaigns that resonate with consumers through a mix of creative content, data-backed strategies, and the right technology.
Contact ScaledOn to start optimizing your campaigns and achieve better results.