One of the best parts of my job is that I get to meet a lot of fellow Entrepreneurs and I especially love meeting young Entrepreneurs just starting their journey. Here are a few thoughts and resources for those of you who are under 30 and wanting to build your own business because we need you!
Entrepreneurialism by your age group is at a low point largely driven by the amount of college debt younger people are carrying: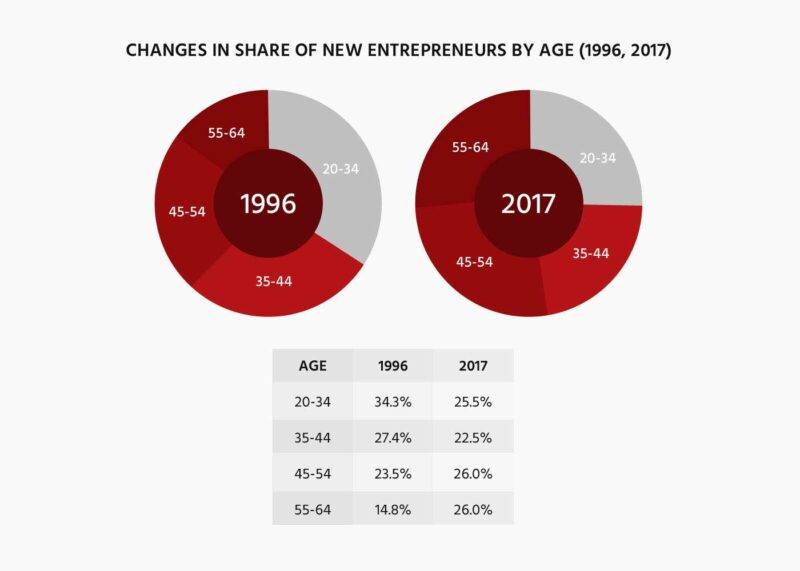 Which means you have less competition but also more people typically telling you not to start a business. Don't listen to them. Any of them.
There are many…many ways to be an Entrepreneur and when I was younger I thought that meant raising money from reputable venture capitalists, building a high growth company and then selling it or taking it public. That is BS. I've had the privilege to do that four times in my career but there is a whole entrepreneurial spectrum that you can build on. Don't let the mass media and the current prevailing winds define what you want to do. Maybe you want to be an Entrepreneur in education like Geoffery Canada or Sal Khan and help kids learn. Or maybe you care about the environment and want to follow in the footsteps of Yvon Couinard or Anita Roddick.Or maybe you don't want to do it full time but just as a side project at your local farmers market. There are endless ways to create value so don't let other people's preconceived notions limit what you want to test for your path. It won't all work out. In fact, most of the time you will fail. The trick is to pick yourself up and do it again just like the founder of Macey's (5 failures), Hershey's or Arianna Huffington.
Play the long Game. You are going to live to be 90 or 100 years old. Which means you can have three 30 year careers in your lifetime! When I was young I was in a rush. It had to happen NOW. Years later, 46 year old Alec thinks about who do I want to work with for the next seven years?
Read. The best counter balance for lack of experience is to get insight from someone else.
Here are a few books I'd start with:
Then get off the couch and go take a swing at building something. Worst case you will meet a lot of other cool/crazy people and learn a ton.
Drop me a note on LinkedIn with your favorite books/resources for new Entrepreneurs…