If you work in digital marketing, you might be wondering how your Google Ads campaigns should be optimized in 2023. Google introduced Performance Max campaigns in 2021 with the goal of helping you optimize your budget and simplify the process of managing Google Ads.
Keep reading to learn more about Performance Max campaigns and how you should be using them in 2023.
What Is Performance Max?
Google Performance Max is a goal-based campaign solution that can help you meet your goals like your CPA or ROAS target. Performance Max uses automated smart bidding strategies and machine learning technologies to optimize bids for your campaigns in near real-time, giving you an advantage over competitors.
Performance Max also allows access to all of Google's inventory from a single campaign. This makes it easier to manage and you don't need to rely too much on strategy. Plus, it gives you more control over the media and helps you with budget optimization through efficient targeting.
What Are the Benefits of Performance Max?
ScaledOn clients that switch from Shopping campaigns to Performance Max have seen an increase in their sales metrics. CPA or ROAS targets are easier to achieve with Performance Max, which makes it a preferred choice for advertisers.
Furthermore, as mentioned, Performance Max allows you to access all of Google's inventory from one campaign, which is great for those looking to maximize their reach and efficiency.
When Should You Use Performance Max?
Given that efficiency is a major concern when it comes to budget optimization, Performance Max is ideal for marketers who want to make the most of their Google Ads campaigns. According to Google, advertisers, media management, and marketing directors can benefit from using Performance Max, especially when:
You have a very specific advertising and conversion goal. This means that you want to focus on a specific metric like your CPA or ROAS target. Performance Max can help you optimize your campaigns for that.
Your ads are not limited to one or specific channel. Performance Max is best used when flexibility is not an issue. If you have ads made for a specific channel or limitations such as budgets, time, or niche, then Performance Max might not be the best option for you.
You want access to Google's advertising channels using a single campaign. Performance Max gives you access to all of Google's inventory, so you don't need to create multiple campaigns for each channel.
You want to boost your conversion. Together with your keyword-based and other PPC strategies, Performance Max can help you reach your conversion goals.
Performance Max Best Practices
Performance Max can be easily set up and Google actually provides the best practices depending on your goals. If you are amongst advertisers with online sales and offline goals, here are a few of the best practices to follow when using Performance Max:
Run campaigns for at least 6 weeks to allow the machine learning algorithm to ramp up and have sufficient data to compare performance.
Add at least 5 versions of text assets (4 headlines, 5 descriptions) to your asset group.
Add at least 5 versions of image assets (including 1200×1200) to your asset group.
Use as many assets as possible.
Use relevant audience lists as signals to speed up machine learning ramp-up.
Utilize Google Ads conversion tracking rather than Google Analytics conversion import to track video views or cross-device conversions.
Refresh your creativity. Creativity is your most powerful tool to drive performance and allows you to customize the campaign to promote new products or new offers. For the best results, focus on providing unique content.
For weekend sales, start the campaign 2-3 weeks in advance, then refresh your creative frequently to move from more generic store creative to sales-focused creative. This strategy will allow you to do time-based promotions without compromising performance.
Customers look to visual sources online for inspiration about what to buy. Use visual inventory to target new customers.
All ScaledOn's clients have seen significant improvement in sales metrics after switching from Shopping campaigns to Performance Max. The results speak for themselves, making Performance Max an essential tool for advertisers.
Download our Performance Max best practices checklist and save time analyzing A/B tests with our testing calendar ✅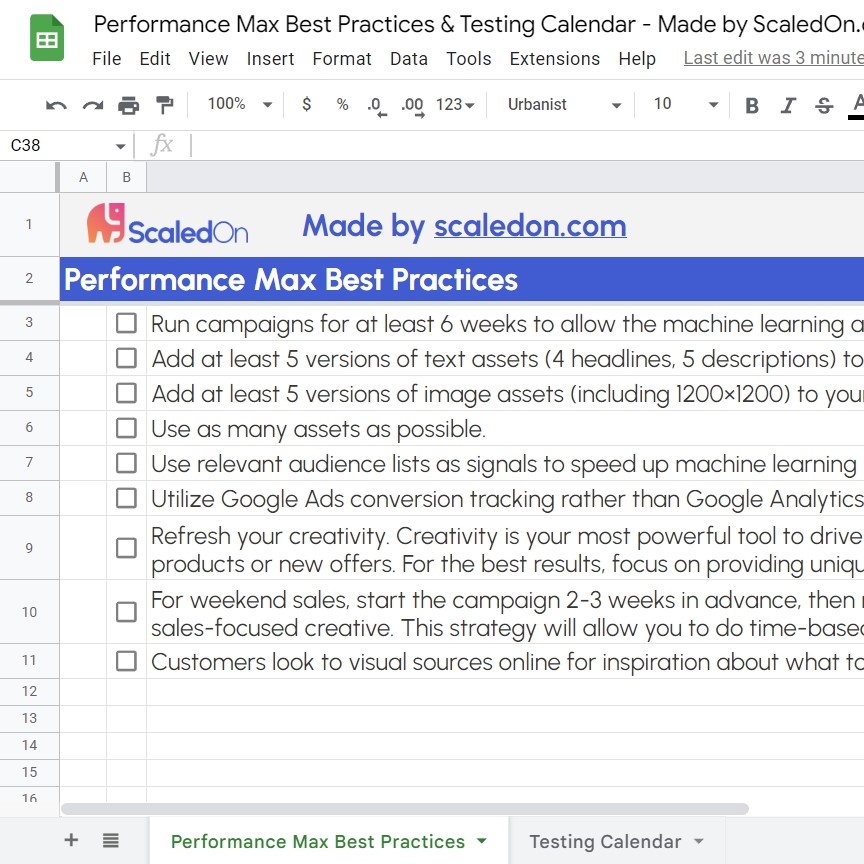 Request Your Google Ads Audit Today
At ScaledOn, we understand the importance of setting up and managing Performance Max campaigns. We have a team of experienced PPC professionals who can help you with your digital marketing strategy and make sure your campaigns are running smoothly. Boost your sales through Google Ads campaigns and get in touch with us for a comprehensive Google Ads audit.