Blog
How To Combat Amazon FBA Fee Increases 💸
💡 Get 4 tips on how to save on costs!
💰 Amazon Does It Again
As you may have heard, Amazon has yet again increased the fees it charges sellers to use its marketplace.
This change can significantly impact your business, so it's essential to understand the new fees and how you can adapt. Furthermore, there are several strategies you can use to help mitigate the impacts of the fee increase.
This blog post will look at what's changed and offer tips on coping with the fee hikes. Keep reading to find out more.
🤔 What Happened?
On January 17th, 2023, Amazon will increase its FBA fees due to rising supply chain costs. FBA fees are increasing another 11 percent from January 2022 and will now include the permanent fuel and inflation surcharge of 5%.
The reasons Amazon gives for the fee increase are fuel costs, recessionary concerns, and continued infrastructure investments. The new fees will include a permanent fuel and inflation surcharge and increased storage costs for standard-size items.
Here are all the increases in FBA fees you need to know about:
Permanent fuel and inflation surcharge: This surcharge will be applied to all orders and will be based on the total shipping weight of the order.
Increased storage fee for standard-size items: This fee will be applied to all standard-size items stored in an Amazon fulfillment center for more than 180 days.
Introduction of a new Storage Utilization surcharge: This surcharge will apply to Professional sellers with a storage utilization ratio above 26 weeks.
Increased storage fees: For aged inventory 181 to 270 days old (which is entirely new) and aged inventory over 271 days old.
💥 Why These Changes Matter
These changes may significantly impact your business, depending on how much inventory you have stored with Amazon and how often you sell items stored for more than 180 days.
If you have a large volume of inventory stored with Amazon, consider increasing your prices or finding alternative storage options. Alternatively, if you sell primarily seasonal items that are only stored for a few months out of the year, you may not be impacted as significantly by these changes.
💡 4 Ways To Save Costs Despite Hikes in Amazon FBA Fees
What can you do to help save costs despite the fee hikes? Here are four tips that may help.
1. Optimize Product Size and Packaging 📦
As anyone who has ever shipped a package knows, the size and dimensional weight of the item can significantly impact the shipping cost. The same is true for products sold through Amazon FBA.
To avoid inflated shipping costs, sending items with the right size and shipping weights is essential. Heavier and oversized objects cost more money because they require extra warehouse space.
One way to do this is to optimize your product's size and packaging. If your product is too large or has too much packaging, you will pay more fees than necessary.
On the other hand, if you can reduce the size or remove excess packaging, you can save yourself a significant amount of money.
As you consider how to reduce your FBA fees, be sure to keep shipping costs in mind as well. By reducing the size and weight of your products, you can lower your shipping costs and further reduce your overall costs.
2. Increase Inventory Efficiency 🏭
Another way to save costs is to increase your inventory efficiency. This means ensuring that you are not overstocking your products and incurring extra storage costs, while still having enough inventory to meet customer demand.
While the exact turn depends on the seller, having more than six weeks of stock in FBA can typically result in higher Amazon fulfillment fees and decreased profitability. Think of more shipments with fewer units per shipment.
One way to do this is by using an inventory management system to help you track your sales data and adjust your stock levels accordingly. Utilizing an inventory management system is just one way to increase your inventory efficiency and not overstock products, which can help lower costs.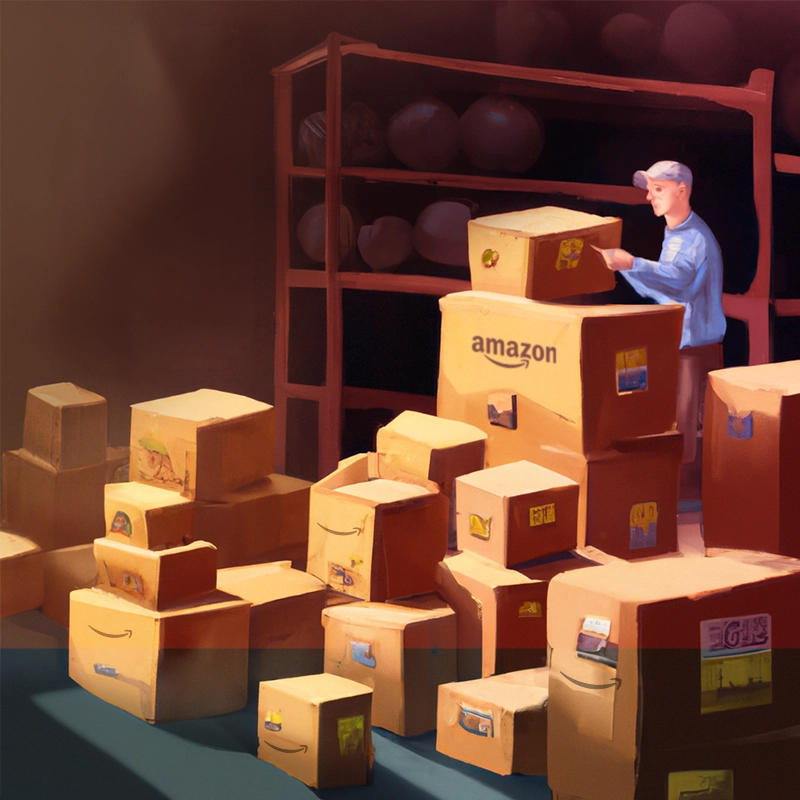 Another way to increase inventory efficiency is by utilizing Amazon's Restock Report, which tells you how much inventory you need to maintain your current sales volume.
3. Cut Out the Middle People 🚚
If you are selling products that you source yourself, you can cut out 3PL costs by sending inventory directly from the manufacturer. Amazon Global Logistics is even furthering this possibility as Amazon now has the capability to handle freight forwarding and international supply chain solutions.
Sellers can save on costs by having their supplier ship products directly to Amazon's Fulfillment Centers. However, there are risks involved with using Amazon Global Logistics, and sellers should proceed with caution. Another way to save on costs is by manufacturing the products or sourcing them at a lower price than what they are currently paying.
Both strategies can help sellers improve their margins and bottom line. However, it is important to proceed cautiously and thoroughly consider all the risks and costs involved before making any decisions.
Ben, Amazon Manager at ScaledOn and former top 100 Amazon Seller, is an excellent resource if you want to learn more about Amazon Global Logistics. Not only can he help clarify the risks and costs, but he can also tell you whether using this service makes sense for your business goals. Contact us to get in touch with him.
4. Price Test 💵
Finally, keeping an eye on your prices and ensuring they align with customer demand and profit margins is vital.
With the increased FBA fees, one of the best ways to combat lower margins is to Price Test. Test slowly and methodically to see where conversion rates drop. You may find customers are willing to pay more, especially when they are already used to paying more with inflation at 20 year highs.
Price testing can be a helpful way to determine the optimal price point for your products. For example, you could offer a discount on a specific product for a limited time to see how customers respond. If sales increase, consider lowering the price permanently.
By keeping an eye on pricing trends, you can ensure that your products are priced correctly and maximize your profits.
Optimize Your Amazon Business With Us 📈
That's it! While many more strategies can help you optimize your Amazon business and save on costs, these four tips can help you get started.
If you need additional guidance or support to optimize your business, our team of Amazon Specialists at ScaledOn is here to help. With years of experience in the industry, we have the expertise to guide and advise you in achieving success on Amazon. Contact us to learn more about how we can help you launch and grow your Amazon business!
How far do you want to scale?