In uncertain times like these, your focus needs to be on planning, planning, and more planning.
Businesses are already adapting to the new reality of the pandemic, and you should be doing the same.
While you're planning cash flow and dealing with other urgent matters, your sales team needs to stay focused on bringing new clients in, even with the added layer of uncertainty.
To help them do that even more efficiently, we recommend implementing a chatbot on your website, qualify users via questions, and book meetings automatically 24/7.
How does this sound? It sounds like magic , but it isn't.
In this blog post, you will learn about what chatbots are, how you can use them to generate qualified leads, and how one of our clients moved from having to email back and forth with prospects to schedule a call to a fully automated process using a chatbot.
1. What are Chatbots?
You have probably landed on a website or landing page, and a speech bubble popped up in the right lower side corner saying hi and asking you if you needed any help.
You've seen it, haven't you?
In short, that's a chatbot. It's a piece of software that you install on your website that allows you to initiate conversations (automated, semi-automated, or real-time) with site visitors.
Our favorite chatbot tools are drift.com, Hubspot's bot, and intercom.com.
2. Two Ways to Generate Qualified Leads with Chat Bots
You might be wondering about how you can use a chatbot/live chat to generate qualified leads. Here are two ways:
A. Book calls automatically after qualifying site visitors
Install the chatbot on your sales pages (or landing pages) and create a series of qualifying questions with multiple answers and plug them into the chatbot (these are called chatbot playbooks).
Based on the answers the person chooses, they get an invitation to book a call with the sales team or not.
Because the sales reps would have connected their calendars to the chatbot, site visitors will be able to choose a time and date right from the tool.
Easy, peasy.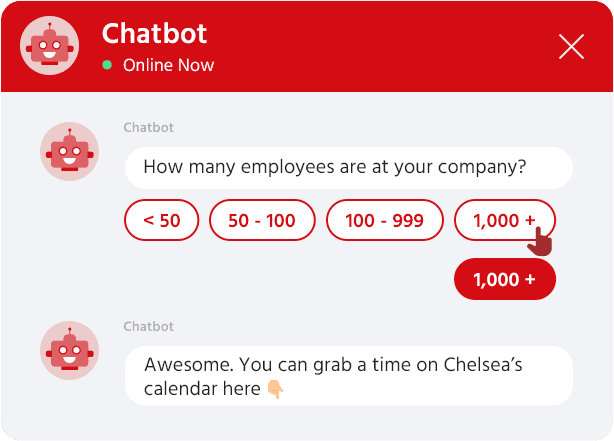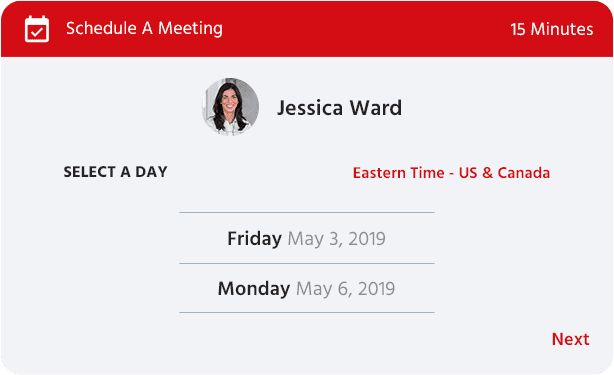 B. Send visitors a valuable resource and ask for their email address in return
If visitors are not ready to book a call, it does not mean they are not interested in your product or service. It simply means that they're further away in the buying cycle. You can still send them a PDF, case study, use case, or a series of educational videos, so they learn more from you.
Ask for their email address in return and permission to send them more awesome resources in the future.
C. How we automated booking sales meetings for our clients
Our client is a company who's on a mission to re-humanize the way people work. His method helps people and companies create better careers and cultures.
His clients, heads of HR and Learning and Development people used to email him to inquire about his services. Nothing wrong with this, except it took a lot of back and forth emailing for our client to understand if these were people ready to buy and he should schedule a call with him, or if they were in a different stage and simply needed some extra materials and support.
On top of that, his website got 25K visits a month, but he wasn't capitalizing that traffic in any way.
We recommended deploying a chatbot, asking site visitors certain questions depending on the page they landed on, and either offer them to schedule a meeting, or invite them to sign up for more resources, which he then delivered via email campaigns.
The results?
One day after launching the chatbot, our client got the first meeting that was scheduled via the chatbot. Our client was thrilled.
Now, meetings with prospects are mostly being booked automatically via the chatbot.
At the same time, the email list is growing with people that he can now build a deeper relationship with.
Are you looking to automate booking meetings for your sales team? Do you need help with setting a chatbot up?
Contact us and let us do it for you.
‍