Your options for a content management system (CMS) today are daunting with TV Ads running regularly for Wix and Squarespace you maybe wondering if you are using the right system for your business?
If we look at the top 1 Million websites the data is pretty clear, most use WordPress: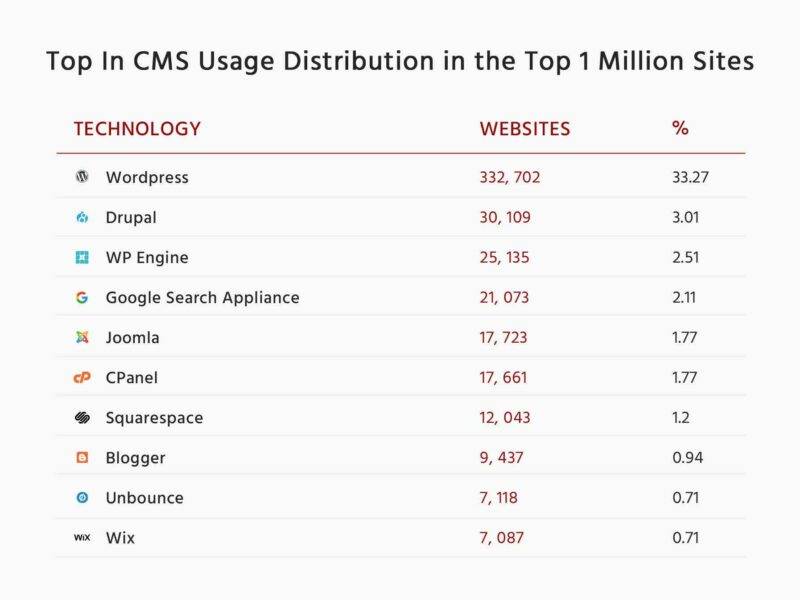 With Drupal being a distant second and Wix having a minor .71% of the top 1 Million websites despite their constant TV ads, why is WordPress so dominant on the Internet today?
It's Free to host on any provider you want.
It has an open source code base, which means you can fork the code and do what you want at anytime.
WordPress is Easy, Easy to set up, manage, and update.
There are 54,806 plugins to do just about anything you want.
You can make it look anyway you want with 11,853 WordPress Templates. For example, maybe your business wants to quickly setup a nonprofit site for an event you are doing – there are 367 WordPress Themes to pick from.
WordPress is SEO Friendly out of the gate but then you can add great plugins like Yoast SEO and take your efforts to the next level.
If your company wants a Blog/CMS there is no better platform to have multiple employees use.
You can expand it easily to do: E-commerce, run a magazine like Rolling Stone, or a Global concern like Unicef and Walt Disney.
It has an AMAZING community where they host 1005 get togethers like Wordcamp. Check out the schedule for 2019 Wordcamp Boston.
WordPress is not perfect. It lets you install lots of plugins or bad Themes your life can get complicated and you may quickly need the help of a developer. Security is an ongoing issue because it is the dominant CMS for the web so hackers attack it first, and because it is so popular it can be hard to find a good PHP developer if you need more complex help.
If you run a growing business, it is the best ROI choice as you can easily start for Free and then your WordPress website can grow with you as you do. Each month we see Google Analytics data from several hundred clients websites and WordPress sites just regularly out perform the other options (mostly being Drupal and Squarespace).