Easter is a time of joy, celebration, and appreciation, and there's no more iconic and adorable way to communicate these feelings than with emojis in your ads. With over 50% of customers more likely to engage with posts that include emojis, Easter is the perfect opportunity for brands to embrace their creative side and get customers on board with all things Easter.
Here are 20 Easter emojis and ad copy ideas that you can use to promote your brand:
Easter Emojis
Easter has symbols that people will immediately recognize, primarily when using Easter animals. What better way to create an Easter-themed ad than to include some of these symbols in your copy!
Rabbit Face: 🐰
Rabbit: 🐇
Baby Chick: 🐤
Hatching Chick: 🐣
Front-facing Baby Chick: 🐥
Easter Egg Hunt
For kids, no Easter would be complete without an Easter egg hunt! Before the Easter Sunday celebration, many families go on an egg hunt for colored eggs and other treats. You can create a memorable ad by including these emojis that speak to this traditional activity:
Egg: 🥚
Person Running: 🏃
Footprints: 👣
Detective: 🕵️
Eyes: 👀
Christ Has Risen
Aside from being a season of renewal, Easter also marks the celebration of Jesus' resurrection. Promote this theme in your ads by displaying religious symbols and quotes that remind people of one of Christianity's most significant holidays. Consider using these emojis in your next campaign:
Latin Cross: ✝️
Church: ⛪
Folded Hands: 🙏
Smiling Face With Halo: 😇
Glowing Star: 🌟
Celebration
Easter is a time of celebration, and it is the perfect occasion to show your customers that your brand is just as excited about this special event as they are. Get them in the festive mood and include fun Easter-themed emojis in your ad copy, such as:
Raising Hands: 🙌
Confetti Ball: 🎊
Party Popper: 🎉
Star: ⭐
Partying Face: 🥳
Ad Copy and Email Subject Lines
Now that you have the emojis, it's time to create fun and creative ad copy for Easter. Here are some ideas to get you started:
Hop your way to Easter fun! 🥳 🙌
Put a spring in your step with our Easter deals! 🐇👣
Celebrate the life of Christ this Easter ⛪🙏
Let the egg hunt begin! 🥚🕵️🔍
Discover an egg-citing Easter surprise! 🥚🐣
For email subject lines for Easter, these ideas can also work well:
Easter Wishes From Us to You 🐰🎉
It's Time for an Egg-cellent Easter! 🥚🐤
Celebrate the Resurrection of Christ This Easter 🌟😇
Show Your Bunny Love This Easter! 🐰🤍
Happy Easter! It's Time to Party! 🥳🎊
Unlock 20 More Ad Copy Ideas With Our Exclusive Downloadable List 💡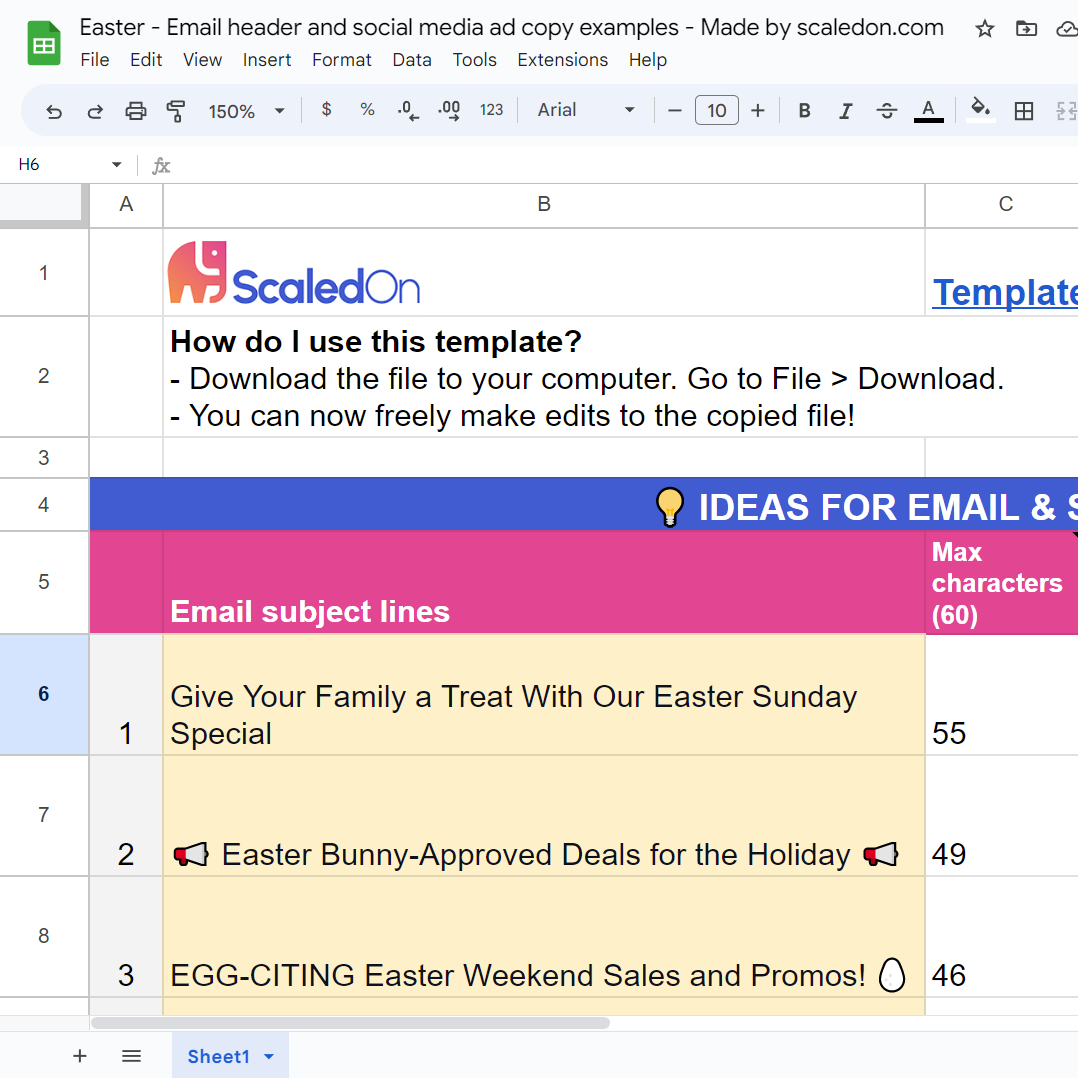 Boost Your Marketing With ScaledOn
Celebrate Easter by creating memorable and engaging Easter-themed campaigns. With cleverly chosen emojis, ad copy, and email subject lines, you can ensure your Easter promotion reaches its full potential.
With the help of ScaledOn, you can maximize your marketing efforts and get the most out of your campaigns. Contact us today and learn how you can boost your marketing this Easter!
Sources