Back in 2018, Amazon was receiving 40% of a seller's revenue, but this has since gone up to over 50% in 2023. Higher fulfillment fees have put more pressure on sellers' budgets and required them to have perfectly optimized listings in order to generate more revenue with the increased competition. This is also why spending to promote your products is unfortunately now unavoidable on the platform.
Amazon Fees 💰
Based on the reports we've received from some of our sellers, most pay a 15% referral fee per each item sold. Another fee to consider is the "Fulfilled by Amazon" fee, which is 20-35% including storage.
An average of 15% is also spent on promotions and advertising on the platform. The fees can vary based on the product size, weight, category, and the seller's business model (FBA/FBM).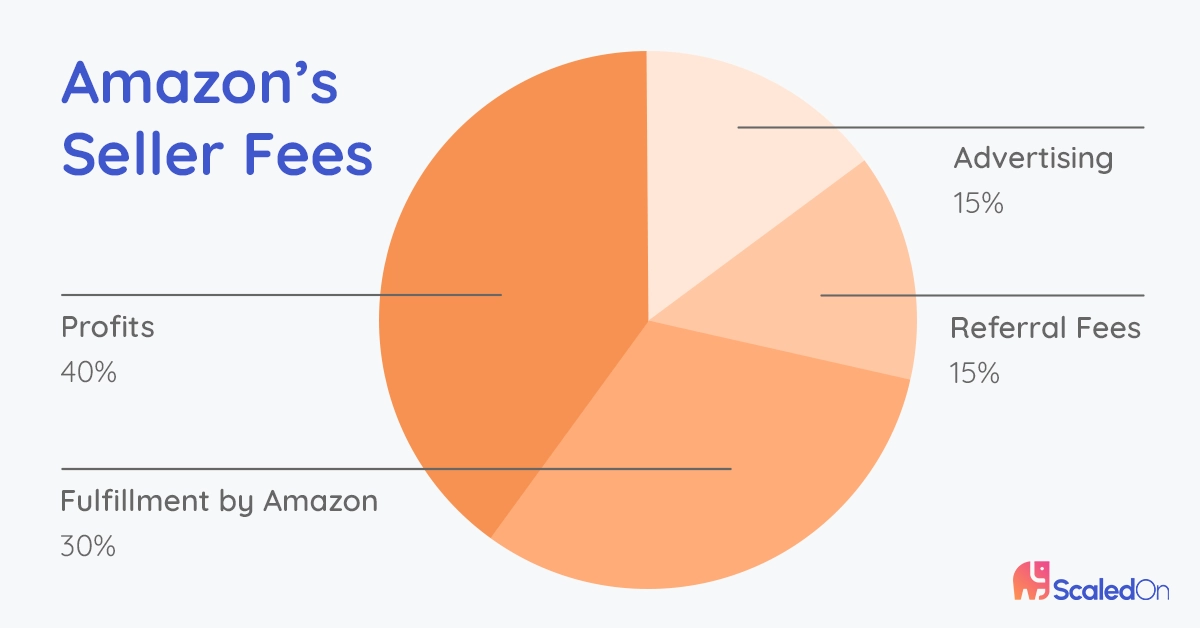 For the vast majority of products, the referral fee is 15% and it has remained as such for over 10 years. Nonetheless, the transaction fee does depend on the category and can go as low as 8% for certain categories.
On the other hand, FBA (Fulfillment by Amazon) fees have grown over the past three years and are now at around 30%. The platform also rolled out price increases in storage fees, especially during Q4 of 2022.
The fees that Amazon sellers pay as a percentage of their sales have increased. However, this isn't due to the sellers employing more Amazon services. Instead, these services have just become either more expensive, like FBA fees, or inescapable, like advertising costs.
Amazon Ads Pricing 💸
As for its advertising prices, Amazon doesn't provide fixed prices since Amazon Ads follow an auction model. This means that the seller who pays the most for a search term is shown first in the results. Promoting your products becomes more expensive because of the intense competition for crucial keywords.
Selling on Amazon without advertising is almost impossible. The highest-converting portions of the results pages are reserved for advertisers, thus, sellers need to pay for ads in order to be visible to their target audience.
The amount spent on advertising varies from business model to business model. Sellers with private labels typically spend more on boosting brand awareness, allocating 10% or more to advertising. Resellers, on the other hand, often spend just 5% on it.
Not Just Amazon 🤔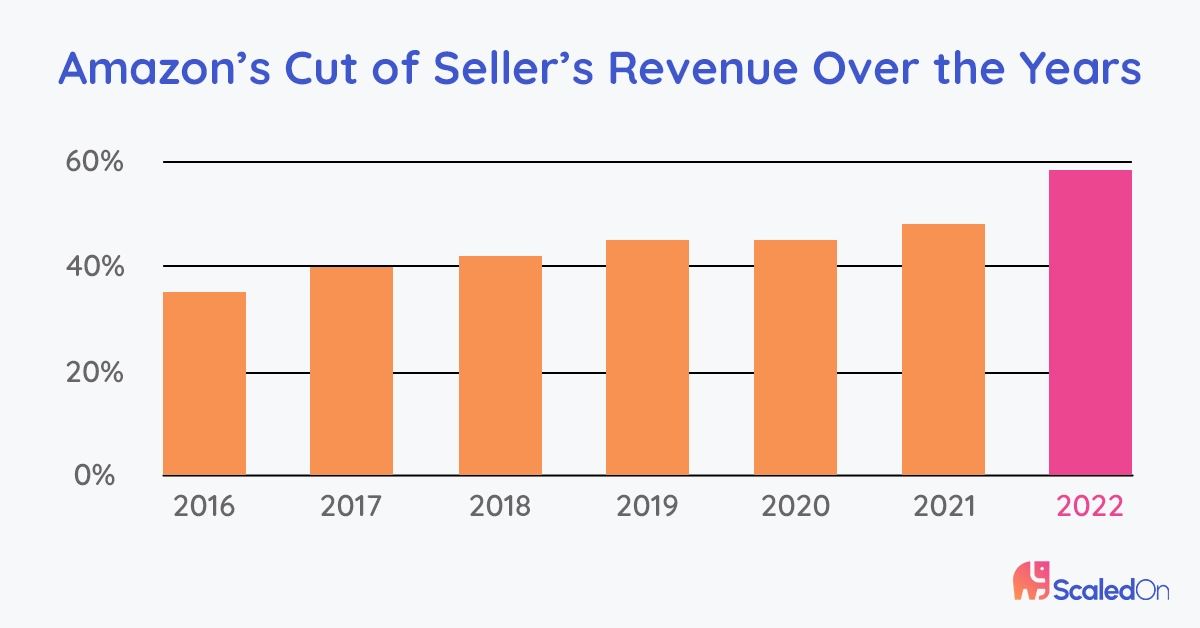 A fee increase has been seen across the board on other major advertising platforms, too. Google and Facebook, which are two of the primary customer acquisition networks, and also 3PLs fulfillment services, are comparable with FBA fees.
Even so, paying Amazon fees brings increased value to the business, and the perception of the rate at which they've grown is subjective. Services like Amazon advertising and FBA are considered required services when selling on the platform, so you can expect the selling cost on Amazon to be 50% going forward.
Other platforms, like Walmart or eBay, and other shopping networks like Shopify, don't have a bundle of 50% in fees. In fact, Walmart is cheaper when it comes to new sellers since it offers fee discounts. When compared to Amazon's reach, though, it's a smaller marketplace — offering access to just a fraction of the buyers.
In order to combat the fee increases, Amazon sellers are either increasing prices, trying different shipping methods than FBA, or approaching other platforms like Walmart. It's only when the tax year ends that most sellers realize how little profit they have left.
This is because they also have to take into consideration other expenses, like inventory, freight, and employee salaries. A few sellers have reported paying as much as 60% or even 70% of their profits in Amazon fees.
Takeaway 💡
As an Amazon seller, it's important to understand the risks that you're taking when selling on the platform. Due to Amazon's ever-increasing fees, it's essential for sellers to have a good understanding of their costs and profits in order to maximize their net profit margin.
It's also important for sellers to be aware of other sales channels like Walmart or eBay that could potentially provide them with an alternate avenue for selling their products without the high Amazon seller fees.
Ultimately, it's up to the seller to decide what works best for them, as long as they keep the percentage of revenue going to Amazon in mind. If you need a helping hand in deciding what's right for you and scaling your business, from Amazon marketing, to Paid campaigns, and SEO improvement, get in touch today! ScaledOn is here to help you with all the information you need and the best marketing strategy.
I want to combat Amazon fee increases