Fixing duplicate meta descriptions can greatly improve your SEO and bring value to your business. A good and unique meta description may increase your click-through rate and bring more traffic to your website.
In this article, we are going to explore the topic of duplicate meta descriptions and we'll show you how to find them easily with Screaming Frog.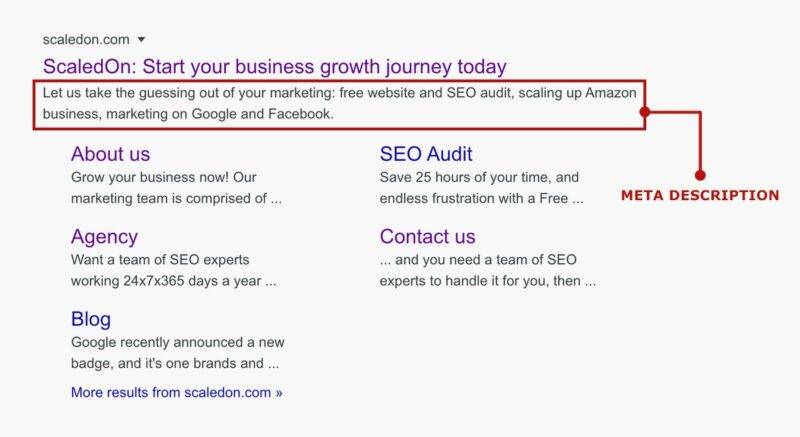 What is a meta description?
Meta descriptions are snippets of around 155 characters which summarize the page content. The search engines show this short text in the search results, which means that having an optimized meta description is crucial to a strong SEO campaign.
Why are duplicate meta descriptions bad for SEO?
Meta descriptions aren't a ranking factor, but duplicate meta descriptions are a missed opportunity to get visibility for your website before people land on it. Users will have a harder time differentiating between similar pages in the search results and this may lead to a much lower CTR which is a ranking factor.
Search engines can also rewrite meta descriptions for you much more often. Leaving this job to the Google algorithm can lead to bad results. At the same time, a large scale of duplicate content, even for meta descriptions, can confuse Google.
It's still valuable to include this keyword in your meta descriptions too because it will get bolded when matching users' queries. This will, again, draw their attention and improve the chances of clicking on your result in the SERPs.
When is it okay to have duplicate meta descriptions?
A crawling tool like Screaming Frog will show you the duplicate meta tags for all the pages it can find. However, you should focus on creating unique meta descriptions only for the pages that are indexable (the pages that may appear in search results) and the ones that you wish to rank for.
There is no point in wasting resources for non-indexable pages, like the canonicalized ones. It's natural for pagination archives to have duplicate titles and meta descriptions, so these can be left aside too.
At the same time, the pages that have no copy – such us tags archives, media galleries, etc. – can all share the same broad meta description. In this case, we always recommend using a blank meta description or using the noindex tag on such pages until you can create unique introductory content for each one.
How to find duplicate meta descriptions on your website
It's very easy to find duplicate meta descriptions using Screaming Frog. You can crawl up to 500 pages for free with this tool, which is enough for a smaller website. You can also choose to buy a license to be able to crawl millions of pages. The only challenge is to filter out the indexable pages.
After crawling your website, go to the "Meta Description" tab, select the "Duplicate" option, and select the "Export" button: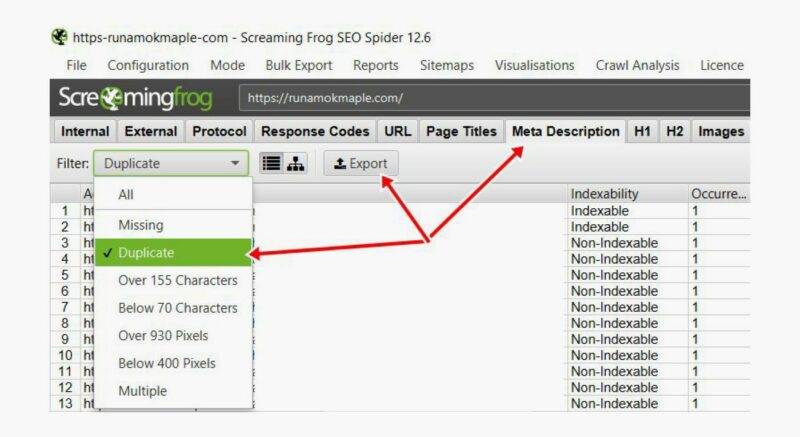 At this point, you will have a list with all the pages – both indexable and non-indexable – that have duplicate meta descriptions.
Open the .csv file, click on the "Indexability" column and sort from "A to Z" (this way you'll see the indexable pages first). In the same column filter out the "Non-Indexable" pages.
Now go to "Find & Select → Go To Special… → Visible cells only". This way you can copy into a new sheet only the rows for the indexable pages.
At this point, you should apply some conditional formatting to highlight the duplicate meta descriptions only. That's because many times this duplicate meta tag is shared between an indexable and a non-indexable page.
From the new sheet where you copied the rows for indexable pages, select the "Meta Description" column and then go to "Conditional Formatting → Highlight Cells Rules → Duplicate Values".
Remember that pagination archives are not a problem. Therefore, as a final step, you can exclude any URLs that contain "page", if these exist.
And that's all! Now you can see which indexable pages have duplicate meta descriptions and you can start making the necessary changes. You should always create new and unique meta tags, and no-index low-quality pages.
What to remember from this article about meta descriptions
Keep this in mind when optimizing your meta tags:
Use unique meta descriptions for the indexable and important pages to advertise for your business, improve User Experience, CTR and organic traffic;
Don't waste resources on optimizing meta descriptions for low-quality pages (noindex them or use a blank meta description);
Duplicate meta descriptions for pagination are not a problem as long as pagination is set-up properly;
Use a crawler like Screaming Frog to find all the duplicate meta tags on your website and prioritize the work;
If you don't want to or don't have enough time, let us help you with the above and more!