Google recently announced a new badge, and it's one brands and e-retailers will not want to earn. Revealed at the Chrome Dev Summit in San Francisco, this badge of shame will identify sluggish websites.
While Google has punished slow-loading websites with lower SERP (search engine results page) rankings for a long time, this new badge means the search engine giant is upping the ante on speed. For consumers, that's not a bad thing. For your website, it could be.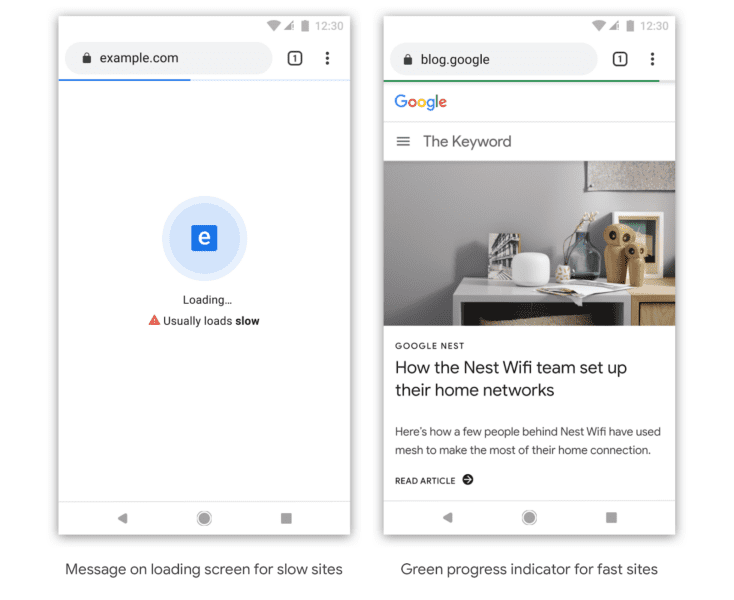 Google Recommended Page Load Time
After a user clicks on your page, how soon should your website display content?
Conventional wisdom says less than three seconds.
That goes for both desktop and mobile. How fast are your pages loading? If they're coming in like most websites, then they take about 8.6 seconds for desktop and 22 seconds for mobile. If you're an average retailer, however, your customer waits 9.8 seconds for your pages to pull up on their desktop and much longer on mobile.
Page speed remains a problem for many eCommerce sites despite the fact that, according to Google's research, 53% of customers say they click away if a page takes longer than three seconds to download.
Why does page load time matter so much?
Because it affects revenue.
Customers hate to wait. If forced to spend more time than they think is appropriate waiting on a site to load, they'll click away from the article they planned to read or video they hoped to watch. If transaction time feels too long, they'll abandon their shopping carts. And even if they complete the transaction, customers who felt forced to wait for a page to load will almost always buy from a different retailer next time.
This represents a huge opportunity for your business to be found as tectonic shifts happen rarely. The last major Sea Change was the adoption of mobile. Voice is going to be on an equally rapid growth path because #1 it will be easier and #2 it will be everywhere.
How Page Speed Affects SEO
Just like customers, Google rewards speed. While the company never reveals the details of its frequently changing algorithm, Google made it clear as early as 2010 that speed factored into its rankings.
So what happens if you don't optimize your desktop and mobile sites for optimum download times?
It affects your overall SEO.
Google relies on user perspective as it determines search result rankings. What matters to the user, therefore, determines how Google ranks a site. And along with quality and accuracy, users love speed. A fast-loading site filled with true and well-formed content gets a boost up the search engine results page while a slower site loses ground.
Why and How Chrome Is Bringing Out the Badge
If Google is already rewarding fast-loading sites and punishing the rest, why is Chrome now bringing out the badge of shame? And how will it work?
The new badge should impress eCommerce retailers with just how much speed matters:
47% of shoppers expect a page to load in two seconds max.
79% of shoppers say a dissatisfying website experience makes them less likely to buy from the same site.
A one-second delay can cause a 7% reduction in conversion.
A one-second lag would cost Amazon $1.6 billion in sales per year. How much is a one-second delay costing you?
Speed counts with consumers. Its importance to them is increasing, and consequently, Chrome is bringing out a stick for those sites where a carrot has not proven sufficiently motivating. How will the badge work?
According to Chrome, "(We will) look at a number of Chrome surfaces, including the loading screen (splash screen), loading progress bar and context-menu for links."
Once Chrome has determined that a site loads slowly, it will likely post a red triangle with an exclamation point in the center accompanied by a note that reads "Usually loads slow." Chrome may also use a green bar to indicate a fast-loading website.
Chrome's new badge could cause sites that already load fast to speed up even more. Meanwhile, poorly designed sites or those filled with unoptimized images, flash content, or too many ads could see more users than ever abandoning them in favor sites flagged as faster.
How Websites Can Avoid Getting Named & Shamed
Want to avoid the "badge of shame?" You'll need to reduce page load lag. Minimize http requests, defer JavaScript loading, shorten the time to first byte, improve your hosting, and compress your images. Yeah, there's a lot that goes into a site's load time especially an e-retail site.
Need help speeding up your eCommerce site? Check your site metrics today for free at ScaledOn and get a full SEO audit sent straight to your mailbox in about five minutes. From there, we can help you ramp up your site's speed and improve your SEO.