About the Client
Our client is a New England-based producer of maple syrup products that enhanced its pure syrup line with a collection of infused, smoked, and barrel-aged maple syrups. Our client uses fresh, organic ingredients to create an utterly delicious product customers love.
Objective
The client's objective was to double its organic traffic to the website over six months and triple it in 12 months with the goal of increasing sales.
Insights
The company didn't have the time, resources, or knowledge to improve its SEO rankings, and its leadership realized that releasing a few blog posts would not generate the results they wanted. They needed programmatic content and SEO optimization. The client knew it wouldn't be impossible to deploy the thousands of product pages needed to address users' searches. That's why they hired ScaledOn to handle their SEO strategy.
"The ScaledOn team grew our Amazon revenue and transactions by 115% and their SEO team improved our websites SEO health score from 54% to 99% last year. We couldn't be happier with the support, results, and ongoing insights we get from the ScaledOn team."
‍
CURT ALPETER, PRESIDENT & PARTNER
Strategy
After completing a thorough strategic analysis, the ScaledOn team decided to use a combination of selected long tail keywords – describing the client's product and using other food products or recipes as multipliers. For example, the team used banana maple cream pie and bourbon maple syrup for cocktails.
The team carefully selects focus keywords when creating and launching new programmatic pages. Our battle-tested playbooks ensure that we continue to select the best combination of long tail keywords based on impressions, cost-per-click, and level of competition as we launch 200 programmatic pages a month for this client.
Once our team had selected the right keywords, we used the client's branding guidelines to design a landing page template with a clean UI for speed.
ScaledOn also improved existing content as well as added new material, social proof, and new categories on the pages. Plus, we enabled the SSL certificate and grouped the pages for better indexing. Finally, the ScaledOn copywriter upgraded the meta descriptions to better focus on the new keywords.
As part of the process, ScaledOn implemented SEO add-on elements such as the sitemap.xml, metadata, GA connection, webmaster tools, and links from the main site. The dev-ops team tested page speeds to make sure load time came in at under three seconds.
Since ScaledOn started working with this client, we have launched 100-200 programmatic and AMP pages each month. Twenty months in, our total page launch count stands at 2,800-plus programmatic pages with their corresponding AMPs.
Results
Comparing data from when Scaled On began our SEO enhancement initiative in the first year, we see that organic traffic has ramped up by 256%, transactions increased by 440%, and revenue by 820%, more than meeting the client's original goal to increase sales by doubling its organic traffic to the website over six months and tripling it in 12 months.
Organic traffic now accrues 38% of total traffic and is the channel that drives the most transactions, followed by direct, paid search, and email.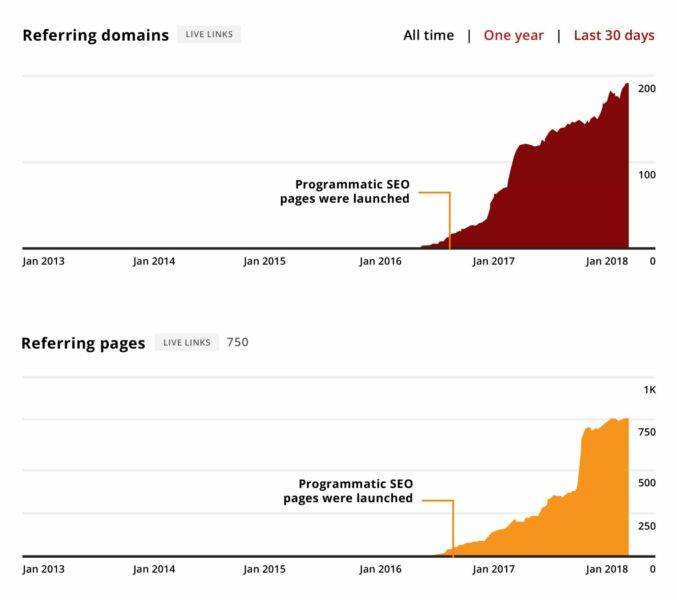 ‍