About the Client
Our client is a 30+ year industry leader and family-owned business in the wholesale beverage business.
Recently, the business reentered the B2C market by popular demand and started selling products on Amazon.
Client's B2C Sales Objective
The client had a dated existing Amazon store, but devoted customers often used the client's website contact form to order products.
The main goal was to drive sales through the client's Amazon store. To accomplish this goal, we had to build brand awareness on the Amazon platform, optimize the client's existing Amazon store, and drive traffic with compelling media campaigns.
The secondary goal was to streamline and scale the ordering process. The Amazon Storefront provides an avenue for retail customers to easily order our client's product. Plus, the Amazon Storefront was an effective platform to attract new customers to the brand.
ScaledOn's Sales Solution
Before we started developing a strategy, we spoke with our client to better understand their unique brand story and why their devoted fans love their unique beverage product. Meanwhile, our team completed a 70 point audit of the client's existing Amazon store to identify the most substantial opportunities to attract new customers.
Our client hadn't advertised products directly to consumers for years. Therefore, our team needed to deeply understand what existing customers love about the brand. Then, we had to pull out what elements might most appeal to new customers so that we could profitably reach them on Amazon.

Once we had a deep understanding of what sets our client apart in the marketplace, we optimized their Amazon product listings to target customers similar to our client's current raving fans. By adding reviews from past customers we added further social proof to the Amazon listings and feature strong testimonials on the Storefront.
When we updated the Storefront design to share our client's story and feature compelling content that introduces the "Why" of our client we moved from facts and figures to a brand narrative that aligned with the goals of buyers.
Traditionally, our client's products are considered seasonal. To drive year-round interest, we created recipe content to inspire customers with new ways to enjoy our client's products all year round.
Finally, we activated media campaigns to bring shoppers to the newly designed Amazon Storefront and product pages. While new customers flowed into our client's Amazon store during the high season, we continuously tested each element of the Storefront and product listings to discover what messaging most resonated 52 weeks a year with our client's target market.
As we discovered through regular testing the most impactful messaging, we scaled our advertising strategy and ran promotions to turn prospects into buyers. We focused our promotions on both the best-selling and slower-selling products by creating gift sets and boosting our advertising around specific occasions.
"ScaledOn has been a valuable asset in deftly navigating the pitfalls and minefields of selling on Amazon, all while exponentially growing our sales. Our revenues have doubled in our first year working with them. I'm looking forward to the continued growth and opportunities on the horizon"
Results
Our client started working with us as a successful wholesaler. By the time our work was finished, they had become a successful ecommerce retailer, too.
Our sales and advertising strategies nearly doubled total sales year-over-year (YoY) and substantially increased brand awareness in the B2C market. After we optimized our client's Amazon store, sales through Amazon increased by 40.81% YoY.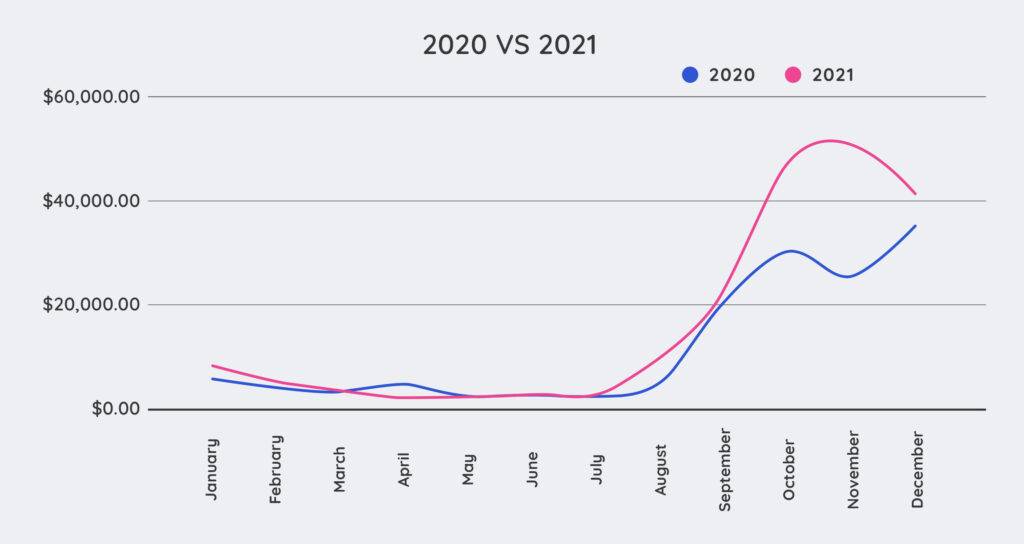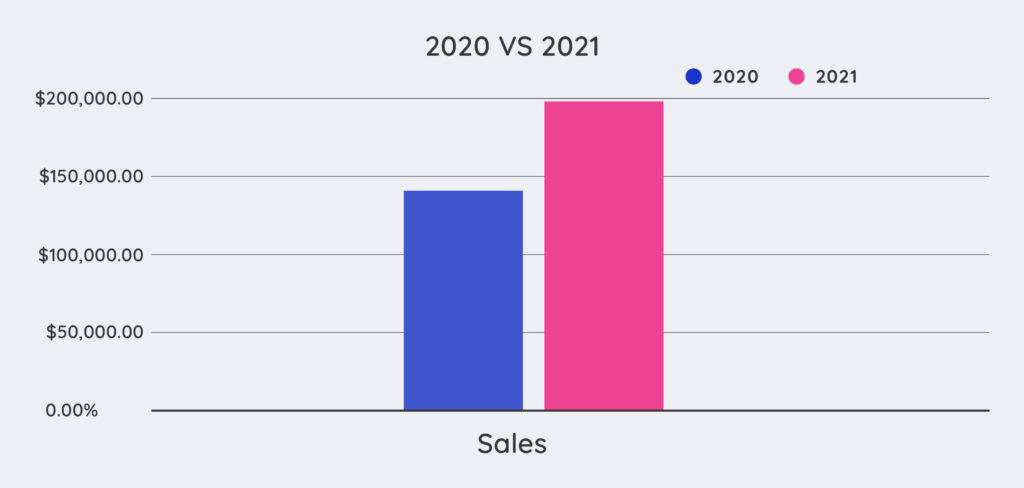 Redirecting customer orders through Amazon also simplified logistics for our client, who previously accepted sales via email from their website's contact form. Now, this family-owned seasonal beverage business can scale and grow all year long.
By reentering the B2C market, our client has evolved their seasonally-driven business with a stronger, more sustainable year-round business model.
Let's discuss how we can help you grow your wholesale business triple digits in 2021.
‍